Hearthstone Throne of the Tides Mini-Set pits Ozumat and Neptulon against each other
We barely had time to breathe since the release of Voyage to the Sunken City, and Hearthstone is already getting more content with the Thrones of the Tides mini-set! Sadly there's no trailer with a musical number this time — at least as of yet.
As is usually the case with mini-sets, Throne of the Tides will introduce 35 cards to Hearthstone: four Legendaries, 1 Epic, 14 Rares, and 16 Commons. You can add all 66 of those cards (one copy of each Legendary, two copies of everything else) to your collection for $15, or 2000 Gold. There's also an all-Golden version of the mini-set that you can purchase for the very steep price of $70 if you're so inclined.
Two of those Legendaries were initially revealed by the official Hearthstone Twitter account: the titular Ozumat and Neptulon, of course, as two Colossal minions.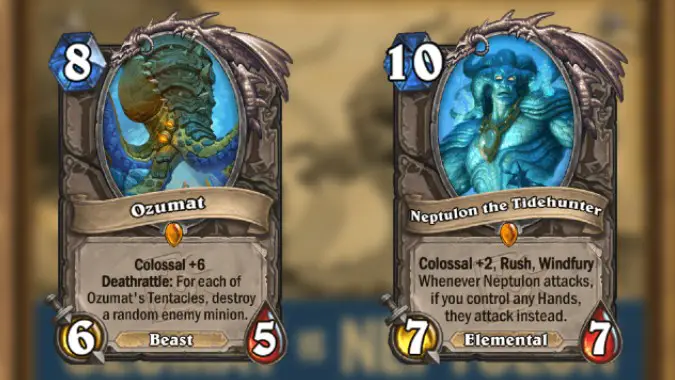 Beyond those two powerhouses, the initial reveal also gave us a preview of three other minions which are honestly pretty interesting.
Bubbler is a Common 1 mana Elemental with 2/4 stats, which is pretty crazy — but, of course, it comes with a downside to make up for it, in which it'll pop and be destroyed if it takes exactly one damage.
Snapdragon is a Rare 3 mana 3/3 Beast with "Battlecry: Give all Battlecry minions in your deck +1/+1." I can foresee many a Shaman player creating strategies around it.
Finally, Coilfang Constrictor is a 4 mana 5/4 Rare Beast with "Battlecry: Look at 3 cards in your opponent's hand and choose one. It can't be played next turn." I love this effect, since it's both information and disruption all in one.
Then, the mini-set released today, June 1.
Which side are you on? Do you pledge yourself to the Fiend of the Dark Below, Ozumat, or do you cast your lot with the Lord of Tides, Neptulon? This battle is already starting to shake the oceans!
Originally posted May 27, 2022. Updated June 1, 2022.