How to play as Diablo in Hearthstone Battlegrounds — and how to play against him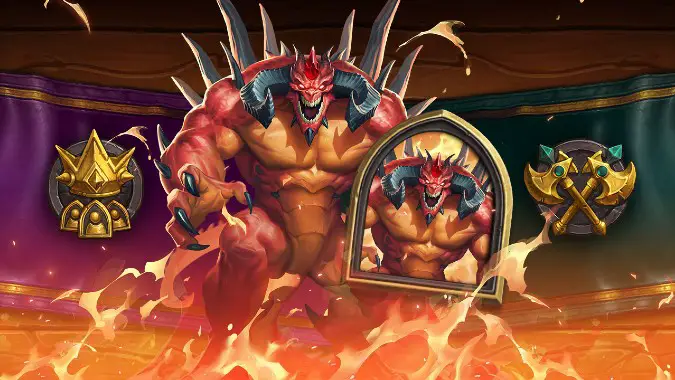 The Lord of Terror is returning to Hearthstone Battlegrounds for a week. From June 1 to June 7, Diablo should be up on every Battlegrounds game. There's a low chance he'll be offered to you, but there's a high chance he'll be played by someone else in your lobby. And since knowing is half the battle, here's everything you need to know about this demonic event — and what has changed since last time.
During regular turns of the game, Diablo behaves just like any other hero. The player who's playing as him will buy and sell minions and build their warband as normal — albeit without a Hero Power to help them, which puts them at a disadvantage compared to everyone else.
Every four turns, all other seven players are sent to a special encounter against a boss version of Diablo. This boss has 666 health — but that's just for the thematic effect, so don't worry about it. What you should concern yourself with is the special minion he comes with: a 3/3 "Diablo, Lord of Terror" Demon, which should be viewed as a veritable loot piñata. You want to kill it for two reasons: to earn a piece of treasure from and to deny the Diablo player from getting to double that reward.
As mentioned, if you manage to kill that minion, you get a treasure, and If you don't, the Diablo player gets two treasures. Which means that the Diablo player could walk away with as little as zero or as many as 14 treasures every four turns! This makes the power of the Diablo hero a bit unpredictable.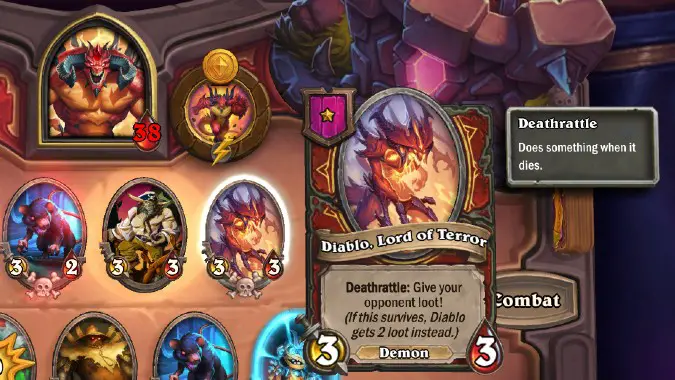 While every other player is facing Diablo, the Diablo player is facing one of the other players as usual, just like a normal turn. If they lose that bout, they can take damage as normal. And the same is true of every other player who's facing their own personal Diablo: if they lose to it, they will take damage regularly. If they win, they won't get to damage the Diablo player, but they might get their sweet, sweet loot.
The last time this event happened, Diablo was too weak at first, but was later buffed, becoming incredibly dominant, and having to be nerfed again. This rollercoaster turned up to be disruptive and generated many complaints from players. Nonetheless, this time around, a few of his spells have been adjusted, and are now stronger. Raw values have been increased for the higher levels of some of those spells, so that they'll deal more damage to enemy minions, or buff the Attack of your own minions by higher values.
Finally, it's important to remember to save all the loot you get from Diablo for the Diablo turns themselves. Those spells will be more necessary and effective if they're applied to generate even more loot. Basically, using the treasures during the Diablo encounter should greatly increase your chances of nabbing yourself some treasure, and of not losing that round of combat and taking "free damage" either.
So head off into the Battlegrounds prepared to face Diablo. Whether you loved or hated the event the last time, it's only going to be around for a week.
Originally posted 11/03/2021. Updated 05/31/2022.