How to get Crests in Diablo Immortal and supercharge your Elder Rift runs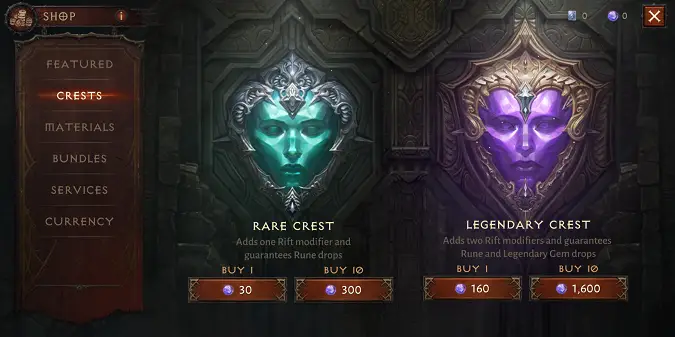 Crests are the type of currency a mobile game like Diablo Immortal thrives on — it's a currency you use order to do something else, but you can't really use it to do anything but that one activity, like a token for a mall carousel. The mall carousel, in this case, is an Elder Rift. You could without a Crest, but the rewards for doing so aren't really worth it unless you invest Crests before your run. The Legendary Crest in particular is intriguing, because using it guarantees you a Legendary gem at the end of your Rift run, in addition to some other great perks — but both the Legendary and Rare Crests will grant Runes, which will allow you to craft Legendary gems.
Each person can use three Crests per Rift, but you can party with up to four other people, and the party using at least 10 Legendary Crests on one run will also Empower the Rift, greatly increasing the rewards.
In short, you want to use as many Crests as possible in your Rift runs to get the best possible rewards.
The first time the game directs you to do an Elder Rift, it grants you a few Crests to play with off the bat. Sweet! So, what now? Where can I get more Crests? What do you have to do to get one? Do you have to spend real money to get Crests?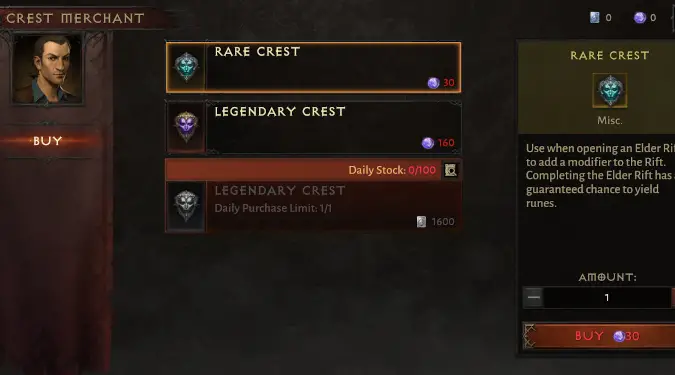 Where can you find more Crests in Diablo Immortal?
You won't begin to encounter Crests or be able to run Rifts for quite some time as you adventure through the initial stages. If you can't purchase one yet, don't panic — it's likely you haven't passed the point in the story where you can purchase them. Once you do, there are several different places and sources where you can get more Crests.
The simplest, lowest-fuss (except in the comments section) way to get more: you can go straight to the cash shop and buy either type of Crest using the currency you can only get in exchange for real cash, Eternal Orbs. You can purchase both Rare Crests and Elder Crests for Orbs singly or in lots of 10, and you can purchase as many as you'd like of both until your credit card spontaneously bursts into flames.
Hey, it's literally hell. It's been known to happen.
The up side is as many Crests as you want, instantly. I don't feel like I really need to spell out the down sides. You can also buy Crests singly using Orbs in pretty much the same way from the Crest Merchant, located below the platform where you queue for Rifts.
From the same Crest Merchant, you can also purchase Legendary Crests using Platinum, a currency earned just by playing the game. The wrinkle here is that there's only so many available for purchase per server per day — in the above screenshot, there were 100 available on the server I was playing on that day, emphasis on the were. The quantity available for sale resets on rollover. If somebody else hoarded all their Platinum and decided to cash in on the same day you wanted to purchase more Crests, you're out of luck til the next day. It'll be a good idea to try to log on early if you plan on snagging one — it may be a bit of a struggle in the early days.
In running Rifts — among other activities — you'll earn yet another currency called Hilts. You can use Hilts to purchase things from the Hilt Trader, located east of the Rift portals. The things you can purchase using Hilts include a Legendary Crest. However, through beta you could only purchase a single Crest with Hilts every month, making it an option you'll have to really devote some brain power to remembering. Maybe set a calendar reminder.
Lastly, blessedly, you can also get one Rare Crest every day just by logging in. That will also be given to you by the Crest Merchant, making it just one of a myriad of things you need to do every day you log in.
In the end, it's not too difficult to stock up on Crests — though you will have to do some planning to make it work.