Blizzard previews Death Knight and Druid Dragonflight talent trees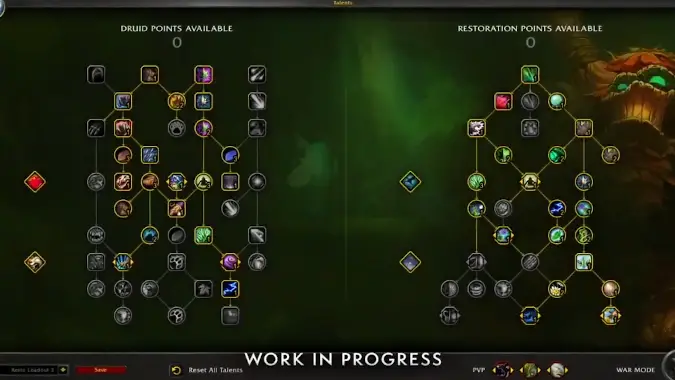 Blizzard has finally released a full preview of Dragonflight's new talent tree system — at least for Death Knights and Druids. According to Brian Holinka, this is a chance for players to begin giving feedback on the system and how it's shaping up, letting Blizzard further refine the system. We've seen some obvious examples of the developers listening to player feedback recently, such as the addition of much-requested cross-faction play, the removal of Covenant swapping and Conduit swapping restrictions, and changing the color of the Season 4 Keystone Master mount after complaints that it was too similar to the Season 2 mount.
And now Blizzard is asking us to read over this information and let them know what we think, so get your hyper-critical (but still polite) hats on and get to work, Warcraft community. This is our chance to help the developers build the best talent system possible, based on the things we think are important.
One of the interesting and informative passages in the post discusses why the devs are rolling back to a tree-based talent system instead of the fixed rows of choices we saw starting in Mists of Pandaria. With a tree, your earlier choices will control your later choices, where you to progress down branches of the tree.
Visually, trees are still an intuitive way to represent the different paths one could follow while making many choices about a character. Trees also communicate dependencies and magnitude intuitively, without a lot of added rules. For example, talents higher in the tree are expected to be more commonly chosen, while talents lower in the tree are more optional and more geared towards shaping max-level builds.
This has me wondering how close to pre-Mists talents the ones from Dragonflight are going to end up being. And the fact is, despite a lot of talk about not narrowing options too much, some talents still seem pretty mandatory to me — I can't imagine being a Guardian Druid and not taking Improved Bear Form/Ursine Adept talent. But the way the nodes are structured seems to make it possible to grab the most required talents and still pick up a few more variable options. And there are still a host of baseline abilities to keep all Druids at least on the same basic page, like Regrowth or Rebirth as well as the various Druid forms. Travel, Aquatic, Bear, Cat, and Flight forms will still be open to all Druids. That suggests the new system will add to our choices rather than restrict them.
These definitely don't seem to be the old trees with lots of stops along the way that just added flat stat increases like the 1/2/3% damage type that tended to clog up the old trees, but time will tell whether Blizzard develops on that idea of letting classes customize a playstyle with more agency in their build. Blizzard admits up front that yes, you will be able to make an outright bad with these talent trees, but the abilities shared across the class or that all specializations can take from the class talent tree exist to serve as guardrails of a sort, so you're never without access to your basic toolkit regardless of how you progress down the tree. But if you're determined to do it, you can absolutely make choices that will not be optimal for your intended gameplay role. Like a Guardian Druid without Improved Bear Form… but it's unlikely.
The current post has a first look at Death Knights and Druids, so if you play either of those classes go and take a look and add your feedback. (Can't find the trees? Scroll down to the bottom of the post and click the + next to the class to expand into a full list with all the details.) Hopefully we'll see more classes as time passes, but for now get that (polite) feedback to the developers so they can iterate on the system make all of the talent trees better.