How and why to extract and inherit legendary powers with Essence Transfer in Diablo Immortal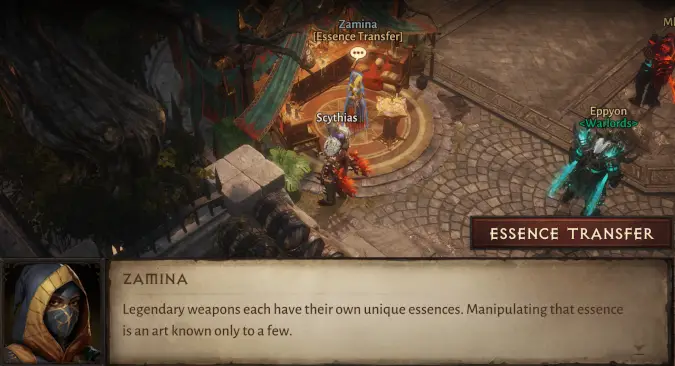 We're happy to see that the ability to transfer legendary powers to new items has made it into Diablo Immortal courtesy of a Westmarch merchant named Zamina. She runs a shop called Essence Transfer where you can transfer the legendary power from one piece of equipment to another. For a price, of course.
Filling one of the roles of the Horadric Cube from Diablo 2 and Kanai's Cube from Diablo 3, Zamina essentially offers you a way to keep the legendaries you may have outleveled and use them over and over again. That's because you aren't just extracting the legendary power from the outleveled item and adding it to the new item. When an item inherits a legendary power, it also gets the appearance of the original item that had the legendary attribute and the name as well.
It should be pointed out that the services Zamina offers, both extraction of an essence and inheriting said essence onto another legendary, costs only gold, which is easily earned through in-game play via bounties, rifts, and dungeons. There is no real money or store transaction necessary to make use of Essence Transfer.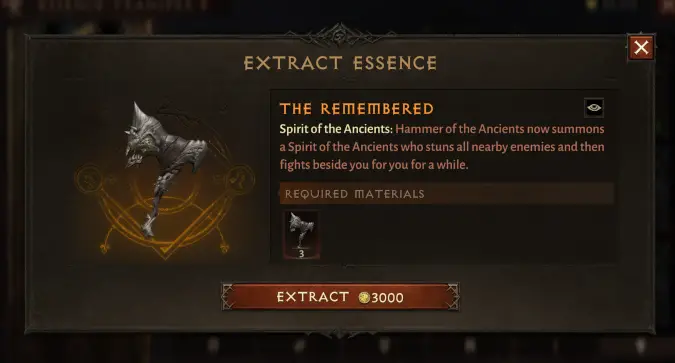 First you must destroy
In order to start the Essence Transfer, you'll need an unequipped legendary in your inventory. Zamina won't extract the essence from a legendary you're currently wearing or that you left in storage. Once you have a legendary you're not using, you can go up to Zamina and she'll happily rip the powerful magical essence of your legendary weapon or armor out of it, sundering it apart in a small cataclysm of magical power.
By itself, extracting essence in this way is just a way to salvage the unwanted legendary item except you don't get anything else out of it like scrap or materials. The upside is that you once you extract a legendary attribute, you can transfer it to a new item as many times as you like.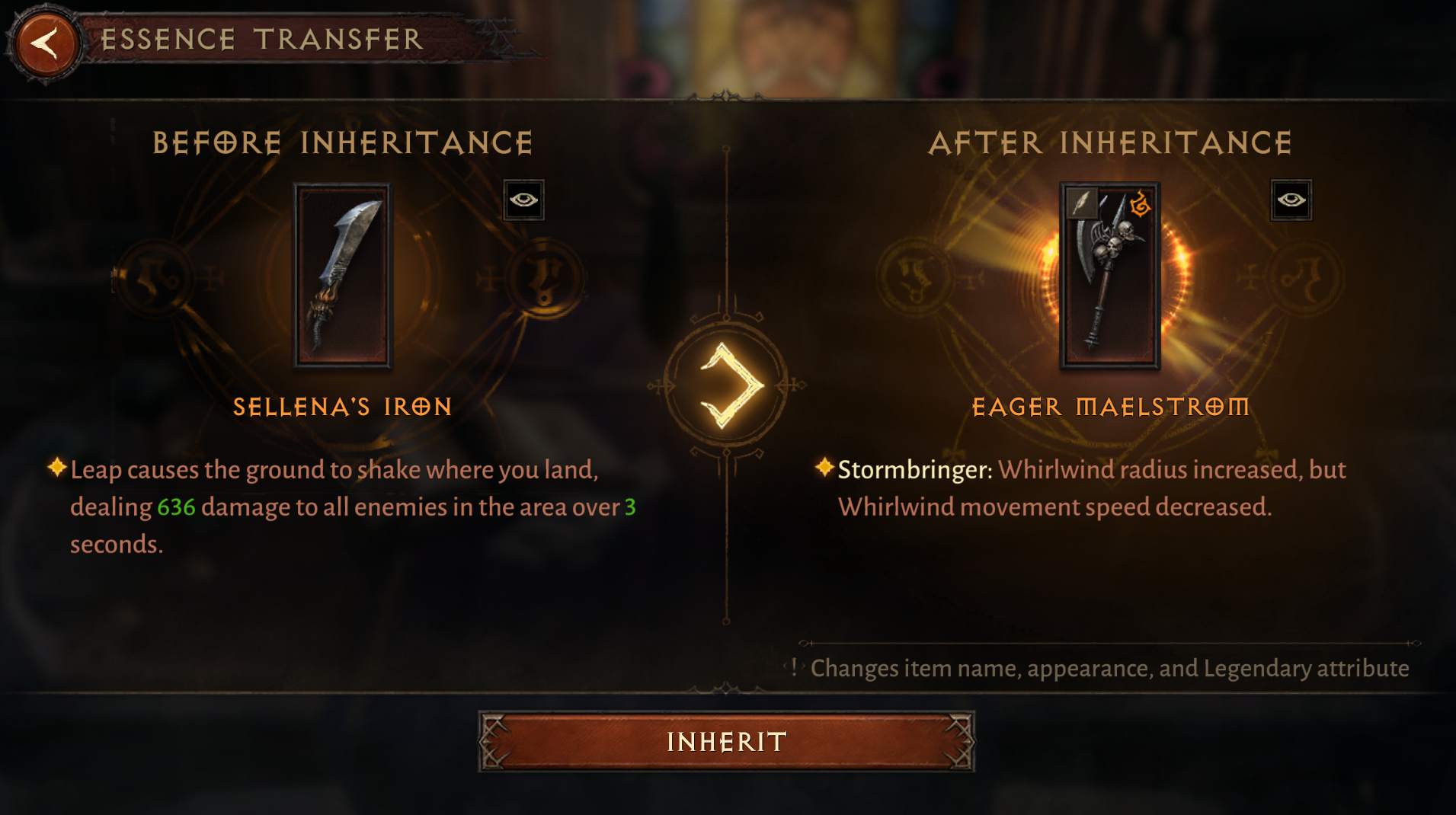 Then you can recreate
The Inherit Essence service that Zamina offers is sort of like transmog, if transmog not only made your current gear look like a different piece but also gave that piece of gear's powers and abilities to your currently equipped gear. Items that Zamina changes with Inherit Essence stay as powerful as they were before the Inheritance, but visually transform into the weapon or armor that inheriting the power from. For example, if you extracted the Heaven's Bonds legendary power from the shoulders of the same name and transferred it to the Discipline's Weight legendary shoulder item, that item would now take on the appearance and the legendary power of the original Heaven's Bonds shoulder item. This is because the item and the legendary power originally attached to it are one in the same.
However, if you decide you made a mistake and want the item back to the way it was before Inherit Essence was used on it? You can get Zamina to turn the item back and then later change it again, as many times as you would like. And unlike Extract Essence, there is no gold cost or any other restriction on Inherit Essence — you could sit there and change your weapon back and forth between various Extracted Essence all day. Extract destroys the item and costs gold, but Inherit is free and doesn't harm the item in question at all.
To find Zamina, just go to Rakkis Plaza, near where you'll find the Market and across the way from the Blacksmith. She's off to the west of the area, with a curled symbol on the map. Remember, you can't use her services until you have a legendary to extract or stored essences to inherit, but the only cost is gold. No microtransactions necessary.