WoW
Jun 23, 2022 10:00 am CT
Dragonflight will have a Collector's Edition but you can get the digital rewards now — if you can afford to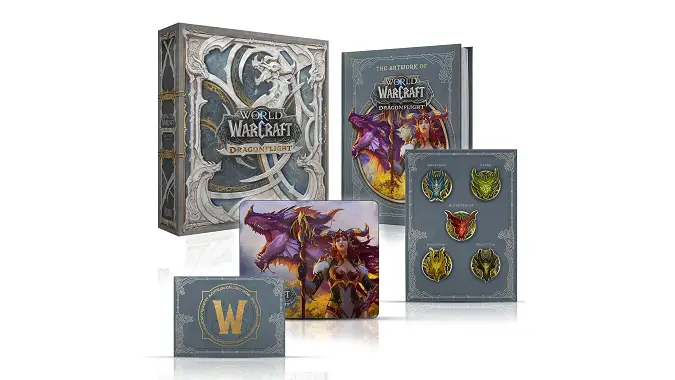 Dragonflight opened up for preorders this week, and the latest World of Warcraft expansion will continue the trend of previous expansions and offer a physical Collector's Edition as well. While the price tag is substantial — $130 before shipping and taxes in the US — it includes all the digital rewards that you get with the Epic Edition, so you're effectively paying an extra $40 (plus shipping and taxes) for the physical rewards.
Included in the Collector's Edition are a hardcover artbook (which had previously been absent for Battle for Azeroth but thankfully made a return for Shadowlands), a mouse pad featuring the Alexstrasza key art, and pins for each of the five dragonflights. While the mouse pad seems an odd choice in 2022, it's been a regular feature in the Collector's Editions (again, excluding the Battle for Azeroth version) so it's not a surprise to see here.
The one recurring issue with investing in a Collector's Edition is that you have to wait to receive it in order to apply the code for the digital rewards. To assist players who don't wish to wait for the benefits of preordering, Blizzard will automatically apply to your Blizzard balance any initial digital preorder costs — it's important to note that if you pre-purchase a Base or Heroic Edition that you should not upgrade as you will not receive a refund of the upgrade cost — once you enter the digital code included in the Collector's Edition. This allows you to take advantage of the level 60 boost or the free month subscription now (and of course show off all the cool new mounts and transmog) instead of waiting for the Collector's Edition to arrive at your door.
Of course, all of this is dependent on whether or not you have the money available to double-dip on the costs of a Dragonflight preorder when picking up the Collector's Edition. In addition, having the money go to a Blizzard account instead of receiving a true refund is not ideal, so make sure you have plans to subscribe or otherwise use the funds so they don't go to waste. Frankly, I'm not sure why Blizzard isn't capable of coordinating with their store so that preordering the Collector's Edition can automatically apply the Epic Edition to your account if you use the latter to login. While I'm sure they're worried about cancellations, they already have the tools available to remove digital rewards from accounts if no longer eligible.
Hopefully before the next expansion comes around this process will be easier and a whole lot less costly.