WoW
Aug 28, 2020 2:00 pm CT
Shadowlands Collector's Edition brings back the art book and is super pretty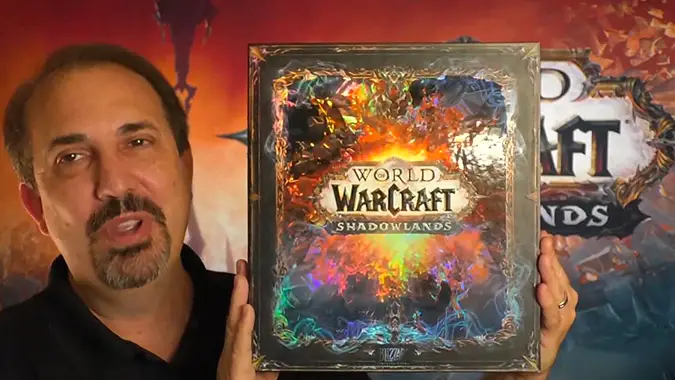 The much-anticipated Shadowlands livestream opened with displaying the physical Collector's Edition and, after Battle for Azeroth's disappointing collection, I have to say I'm tentatively impressed.
Blizzard learned their lesson and is bringing back the art book. It's a beautiful hardcover book filled with glossy pages of concept art for the expansion, and it has always been a highlight of the physical Collector's Editions. The Collector's Edition box is very pretty too. The face is emblazoned with holographic foil, with holographic accents on the side as well as the Covenant sigils. The set features a lot of the things players enjoy when purchasing the physical items, and they have even managed to add in something typically only seen with BlizzCon goody bags: pins.
Here is everything you get with the physical Collector's Edition:
Hardcover art book
Set of four Covenant Sigil pins
Shadowlands mousepad
Digital Soundtrack key
Epic Edition digital game key
30 days of game time
Digital in-game goodies

Ensorcelled Everwyrm mount
Anima Wyrmling pet
Vestments of the Eternal Traveler transmog set

Wraithchill cosmetic weapon transmog
Eternal Traveler's Hearthstone
Shadowlands-Level Character Boost
One of the common issues as games have gone more digital is trying to get the digital pre-order bonuses while also waiting for the physical Collector's Edition to arrive. While Blizzard's solution to this predicament has gotten better over the years, it's still clunky, simply because they start offering pre-order bonuses more than 6 months before the expansion is due to come out (or in Shadowlands' case, nearly a year). This time, however, Collector's Edition fans won't have to worry about being delayed on launch day — retailers will be sending out the Shadowlands Collector's Editions in mid-October before Shadowlands release date. How soon you'll get yours depends on the retailer — Blizzard's goal is October 13, and Shadowlands' delay shouldn't affect that (for example, Target has already shipped pre-orders as of October 8). If you want to experience the pre-order bonuses before you get your Collector's Edition, you have to purchase a digital copy and upgrade your Collector's Edition when it arrives.
In Shadowlands, when you enter in your Collector's Edition key, it will give you a refund for the digital copy in the form of Blizzard Balance. It's not a true refund — you don't get your money back the way you paid — but it can be used for any Blizzard transactions such as purchasing game time or character services. Players have until March 31, 2021, to receive a refund from upgrading to the Collector's Edition. Just make sure that you only buy one digital edition. For example, if you buy the Base Edition and then upgrade to the Heroic Edition later for faster access to digital goodies, when you enter in the Collector's Edition code, it will only credit you for the first purchase of the Base Edition.
Digital Edition pre-orders have been available since last November, and the Collector's Edition pre-orders started in July, including the Blizzard Gear Store.