Are you worthy to wield Mjolnir in Marvel Snap's Thor-themed second season?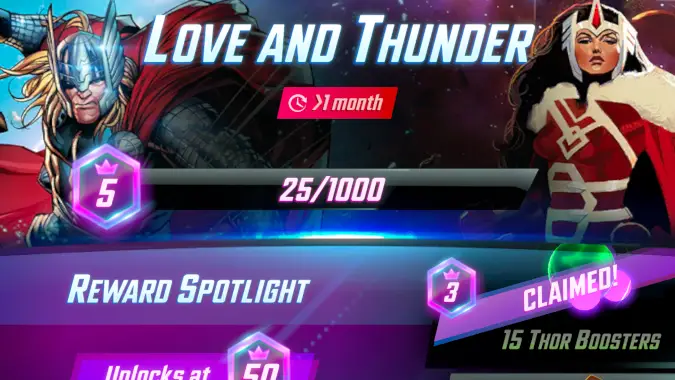 Marvel Snap has themed its second season, running July 5 through August 2, around the upcoming Thor: Love and Thunder movie. In addition to the usual rewards of Gold, Boosters, and Credits, the Season Pass gives players the opportunity to earn new cosmetic rewards as well as a brand new card.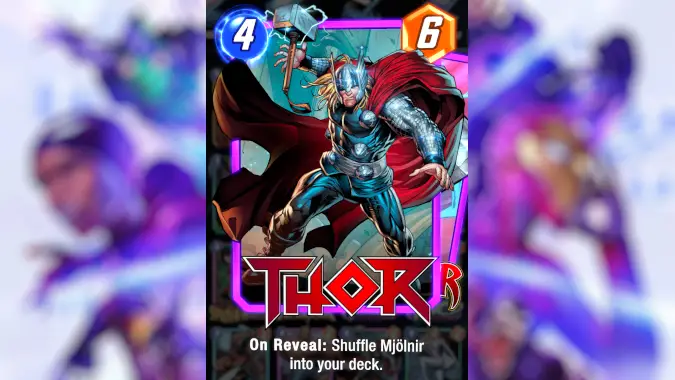 The new seasonal card and location are themed around Thor
The new card is the prince of Asgard himself, Thor. This is a new 4 Cost, 6 Power card with the effect "On Reveal: Shuffle Mjolnir into your deck." Awesome.
So, besides a really cool hammer that we're definitely going to keep away from Hela, what is Mjolnir? It's a 0 Cost card with 0 Power with the effect "On Reveal: Give Thor +6 Power." The problem is you have to then draw Mjolnir. Assuming there aren't any card cost reduction locations in play, the earliest Thor will hit the board is turn four. That means you just have two more draws to get Mjolnir.
But, we also have a new location: Asgard. Asgard's effect is, "after turn 4, whoever is winning here draws 2 cards." Asgard won't appear in every game, though right now it is the "featured location" meaning it will appear more often. When Asgard is in play, it will make drawing Mjolnir that much easier — assuming you're winning that location.
Furthermore, Mjolnir takes one of the sixteen card slots on the board, but critically, it doesn't have to played on the same location as Thor. It can be played at any location. In practice, Thor feels a little slow, but if you can land Mjolnir on a location with Wong, who causes On Reveal to fire twice, or play Mjonir on Sinister London which copies it, you can get a huge power swing.
I'm currently using a modified Odin deck with Thor. In addition to Thor shenanigans, it contains a powerful combo of Wong, plus White Tiger, plus Odin. The list is Electra, Iceman, Rocket Raccoon, Yondu, Star Lord, Ironheart, Rogue, The Punisher, Wong, Thor, White Tiger, Odin.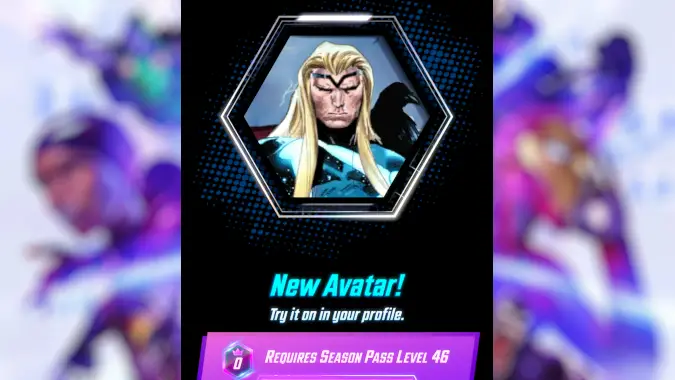 New Cosmetics on tap for season 2
Season Two brings a bevy of Thor-themed cosmetics. We're getting new variants for Thor, Lady Sif, and Heimdall. Variants are duplicates of cards you own, but with different art. Their effect is the same, but you level them up separately, which can be a nice way of earning some cheaper Collection Levels.
We're also getting two new card backs, one themed after Mjolnir and one themed after Asgard, and three new avatars.  We're getting the same characters as avatar as we did for the variants (Thor, Lady Sif, and Heimdall). I'm particularly excited for the new avatars. My username is Honor's Hammer from my days as a World of Warcraft Paladin. Thor seems like the ideal avatar for that user name.
Premium, Premium+ or Free to Play
Free to Play players can work their way through the Season Pass track to level 5o and beyond, but some rewards are locked to Premium and Premium+ players only. You can see if a rewards is available to Free to Play players by the green "Free" banner in the Season Pass track. The new card, Thor, plus all the cosmetics — expect for the Asgardian card back — are locked behind the Premium paywall. That's a major bummer. Premium is $9.99 and must be purchased each season, which generally lasts about a month. Premium+ is $14.99. It's simply Premium that unlocks the first ten levels of the Season Pass track for you.
I'm a little concerned about locking the new card behind the paywall, especially when the new location encourages players to use the new card. I don't see any way for a Free to Play player to get Thor. My understanding was that everything could eventually be earned by a free-to-play player while the premium players would just earn it faster, but that no longer appears to be case.
Australia and New Zealand to join the beta
Along with all the exciting news about Season 2, Second Dinner has opened beta registration for Australia and New Zealand. If you live in those regions, head on over to the Google Play store and get signed up. Hopefully, this is sign that global release is getting that much closer. I can't wait for all my friends to be able to try Marvel Snap.
This season theme is a clear sign that Marvel Snap is hoping to connect to the Marvel properties from other media. Should we expect a She-Hulk themed season in August? After all, She-Hulk: Attorney at Law debuts on August 17, 2022 on Disney+. Perhaps a Black Panther themed season for November to celebrate Black Panther: Wakanda Forever which opens on November 11, 2022?
With global launch still likely a couple of months away, some prospective players might be feeling a bit of FOMO. But worry not, my intrepid readers. According to your friends at Out of Cards, Second Dinner has confirmed all the seasonal cosmetics and cards from the beta will be available to all players after the game has its global launch.