WoW
Jul 14, 2022 1:20 pm CT
How to sign up for the World of Warcraft Dragonflight beta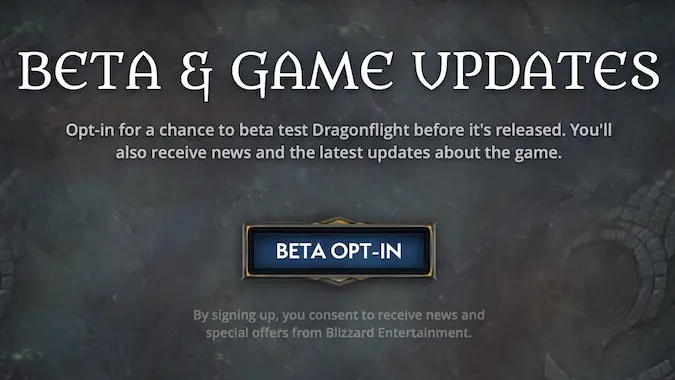 It's official: the next expansion for World of Warcraft is taking us to the Dragon Isles. Dragonflight is going to bring a lot of exciting changes to the title, including a new heroic race/class combo (the Dracthyr Evoker). So how do you get involved in the beta, both to help test the new upcoming talent system and pal around with ducks, but also to get your hands on the expansion before anyone else?
The old beta opt-in system comprised of a separate page associated with your Battle.net account, where you could check a box for each franchise you wanted to contribute to testing and capture a hardware profile of your computer. This centralized the menu, but could be frustrating to find over the years. Not to mention, you'd need to make sure your hardware profile was constantly updated as you swapped computer hardware. But luckily, that process has gone the way of the dodo as Blizzard updated their integration of the Battle.net account system.
Nowadays, beta opt-in is as simple as a button click on the official Dragonflight website. Well, okay, you'll need to log into your Battle.net account in your browser as well if you're not already logged in, but they put a quick link front and center at the top of the page that takes you straight to the button. All you have to do is click, zoom down the page and click Beta Opt-In. Congratulations, you're done!
If you return to the page with your Battle.net account logged in, you'll see the following confirmation:
Thanks for signing up, (YourName)!
Just remember: an expansion beta access gets rolled out over time. You'll receive an email once you have access to the beta, but before then, it's a bit of a waiting game. And as always, be on the lookout for beta scams.
There's going to be a lot to test. Blizzard announced new flight mechanics behind dragon-riding, a revamp to the game UI, the Dracthyr Evoker, changes to the crafting system… oh, and did we mention ducks? Really, this expansion should be about the ducks. See you in the Dragon Isles — hopefully in the beta!
Originally published April 19, 2022. Updated July 14, 2022.