WoW
Apr 19, 2022 12:21 pm CT
WoW Dragonflight expansion is getting a new point-based talent system, and a promise of no borrowed power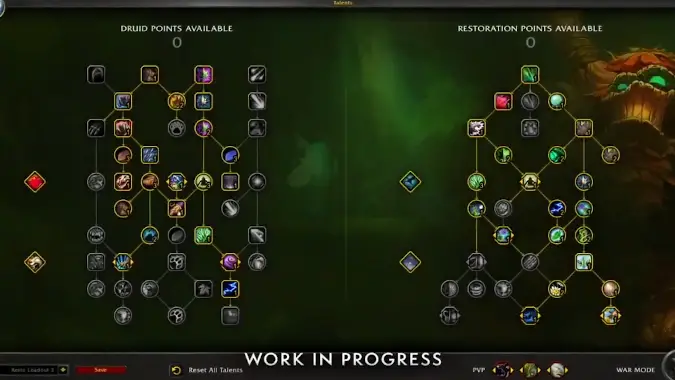 World of Warcraft's next expansion, Dragonflight, is a return to the roots of the game in many senses with a new kind of talent tree. Besides going back to Azeroth and exploring classic WoW themes with the dragonflights, we're also returning to a time when we had talent trees that you can spend talent points on with each level up.
Details about this system are still sketchy, but the official Dragonflight website gives us the basics:
Gain talent points with each level-up and spend them in two distinct talent trees. Class talent trees feature utility skills for your class, while Specialization trees boost your offensive or healing powers.
This is a fresh take on an old idea, combining classic talent trees with the more streamlined, fully-separate specializations we've had since the debut of the current talent system in Mists of Pandaria. There will be two separate talent trees that you can spend points on, with one of them being tailored to your entire class, and the other for your current spec.
The class tree will be focused on utility, while the spec tree will be focused on power (either healing or damage). While that might raise a few initial concerns about balance, it seems like the amount of points you can spend on each tree is limited, so that all players should end up with the same amount of "utility points" and "power points," rather than having to choose between them.
But another source of excitement for players is that this new talent system might end up being the main power progression for our characters in this new expansion, and expansions to come. In other words, Dragonflight may be the end of borrowed power systems. In today's announcement video, Game Director Ion Hazzikostas was very clear when talking about this:
We've heard loud and clear from players that it's kind of a bummer to start off every new expansion by leaving a large part of your character and your progression behind. So this time around, what we're doing is really pouring all of our energy into permanent revamps, overhauls, and improvements to World of Warcraft's core systems. Things like our progression systems, our talent systems, our UI, professions.
That sentiment of "no more borrowed power" has, indeed, been a loud request in the community as of late, and it's fantastic to know that it might be finally time to put those temporary power gains to rest.