Diablo Immortal Season 3 is now live, with plans for new content every two weeks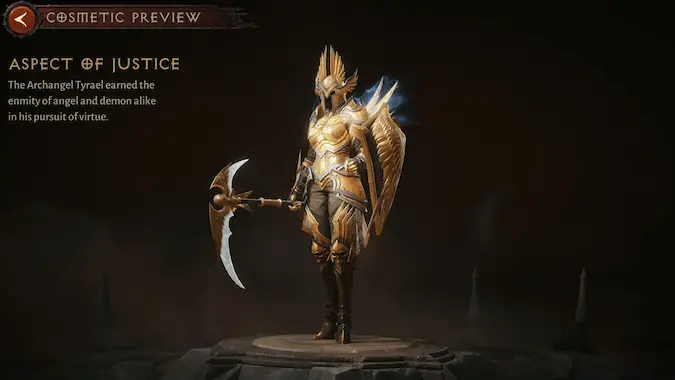 Welcome to August, and the start of Season 3 for Diablo Immortal. Started August 4 at 3:00 am server time, the next Battle Pass season brings quite possibly the shiniest transmog in the Diablo universe, along with some clearer details around how updates will flow moving forward for the title.
Blizzard started the announcement with details about the update cadence for DI before the Season 3 details, and it's pretty aggressive for a community used to months between updates. They plan to release new content to the mobile title every two weeks. Updates will come in two forms: major updates or mini updates.
Mini updates are focused more on the Battle Pass seasons, small in-game events like Hungering Moon, and the occasional feature update. Major updates are the more significant announcements, like expansions. That said, they have a caveat that "all content… is not mutually exclusive to a Mini or Major content update and may sometimes just be released once it has reached a state of quality worthy of our players." So while these are their guidelines, they won't let a pending update type keep them from a particular release, giving a rough idea of what to expect based on the "mini" or "major" in the header.

What to expect from Diablo Immortal Season 3
This mini update delivers the Season 3 Battle Pass and associated transmog — the Aspect of Justice, modeled off of the Archangel Tyrael. They nailed it, too; the aesthetic of this transmog is wholly evocative of the High Heavens. Of course, there are further rewards for the Battle Pass's paid iterations, but I'm focused on just the gear transmog and may even class change to demon hunter for their particular appearance. Look at that set and tell me you wouldn't consider the same.
The Hungering Moon limited event returns from August 12, 3:00 a.m. to August 15, 3:00 a.m. server time. As with July's event, adventures grab event-unique quests and complete them for Moonslivers. Moonslivers act as a currency for Blessings (exchange rate pending). You earn a reward once you've accrued seven Blessings, and can receive a bonus "favor" after turning in enough blessings.
Additionally, Season 3 adds a new daily event — the Wrathborne Invasion. Thwart waves of demons daily (at noon server time) as they arrive freshly minted from the Burning Hells to wreck Sanctuary. Slay enough of them and fight the empowered echo of Gorgothra for gear drops and Enchanted Dust for the top three damage dealers.
A sinister invasion born from the vilest machinations of the Burning Hells is underway—the Wrathborne, with their armies in tow, have besieged Sanctuary. At 12:00 p.m. server time each day, daring adventurers can band together to repel hordes of bloodthirsty elite demons. If the minions of the Burning Hells fail to claim the zone they're attacking, Gorgothra will seek to finish the job herself, sending an empowered echo of her likeness to clean up any resistance.
A show of immense strength against the Wrathborne's attempt to control the zone will be most richly repaid in gear, with the top three damage dealers receiving six Enchanted Dust to sweeten their victory. Wrathborne Invasion can only be completed once per day, and additional Wrathborne will look to launch invasions of their own as they're discovered by Rayek's Helliquary.
Finally, two feature improvements go live with Season 3: improvements to Warbands and adding vote-to-kick to parties and raids. The Warband improvements focus on streamlining member awareness — seeing who is online from your Warband and their current in-game activity. The addition of vote-to-kick will be invisible, only available when the game detects specific (predominately idle) conditions from a party or raid member.
And that's it; nothing huge or world-altering, aligning with the expectation for a mini update. Season 3 is live now, and runs until September 1 at 2:59 am server time (another 4-week cadence). Get out there and enjoy your Tyrael transmog!