Bloodsworn Battle Pass, Hungering Moon event, and more coming in Diablo Immortal's first content update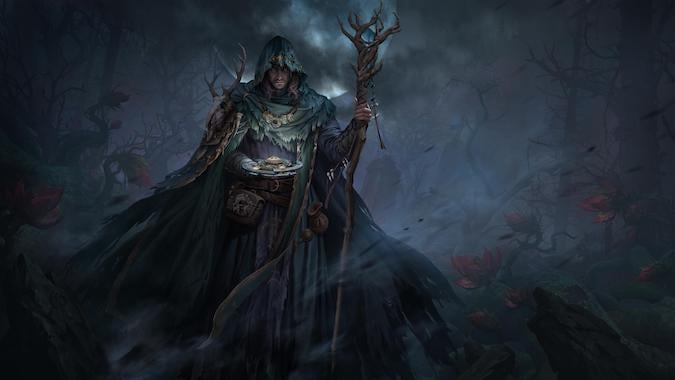 It's nearly time for Season 2 in Diablo Immortal, but the developers came down to the wire on announcing the new season: the details of Season 2 arrived with less than a day of warning. Coming July 7 at 3:00 am Server time, Season 2 brings us bug fixes, a new Battle Pass theme, and our first weekend event — oh my! Let's review the fun stuff coming with Immortal Season 2.
The first notable item is Immortal's first special weekend event: Hungering Moon weekend will run from July 15 at 3:00 am to July 18 at 3:00 am. Here's the general gist if you don't want to translate the blog post's Diablo-esque descriptions. Adventures will be able to grab event-unique quests — possibly via the bounty system or a new NPC — and complete them for Moonslivers.
The moon is hungry, and it demands blood. . . perhaps even yours! You, adventurer, gaze upon the moon—bask in its hallowed glow, heed its howl for sustenance, and lunar-laced blessings you shall be bestowed. Fulfilling the moon's demands will earn you
Moonslivers
, which can be traded for
Blessings
. After acquiring seven Blessings you will have curried enough goodwill with the moon to trade these in for a random reward. Offer enough blessings to the moon and it will even present you with its favor.
We welcome brave adventurers to lend their hand in satiating the moon's hunger from July 15 3:00 a.m. until July 18 3:00 a.m. server time.
Moonslivers will act as a currency for Blessings (exchange rate pending). You earn a reward once you've accrued seven Blessings, and there's even potential for a bonus "favor" after turning in enough blessings. While this event sounds fun, I'm glad it's not permanent because we have enough currencies to track already.
Next is not exactly an addition, but a sneaky advanced notice. The development team is projecting the previously-hyped class change feature for later this month (July 2022) alongside "additional new content." That is a surprising turnaround; yes, Blizzard did say they wanted this feature out "shortly," as the devs wanted this feature available pretty quickly for those who didn't want to play the alt game. Still, this means we'll be less than two months in when class changes unlock. That said, we still don't have an idea about the cost of this service, although we know from the initial announcement that there will be limiters to the Class Change system to keep class choices meaningful.

The Season 2 Bloodsworn-themed Battle Pass kicks off with the content update on July 7 and runs for four weeks. Yes, this means fresh transmogs and cosmetics for the collectibles fiends, as well as a new opportunity to level up your Battle Pass Bar for rewards. Presumably, August 4 is when we'll see another content update, which means three or more potential "big" updates in the first three months of the game.
The devotees of the Countess, the wicked Bloodsworn, have risen up in revolt throughout the Dark Wood. A new Battle Pass devoted to the Bloodsworn's valor has arrived, and with it,
Season Two begins on July 7 at 3:00 a.m. server time
. The Bloodsworn Battle Pass is host to
40 ranks-worth of challenges and rewards
, such as Legendary Gems, Crests, Hilts, and more.
The Season Two Battle Pass only runs until August 4 at 3:00 a.m. server time—begin slaying demons and climbing your way through the ranks today!
This information gives insight into the planned cadence behind not only the Battle Pass but DI's seasons (not to be confused with D2R's ladders or D3's seasons, which are much longer right now), in addition to reinforcing the paid pass serving as a kind of monthly subscription. Truthfully, once every couple of weeks for content changes seems like… a lot, so we'll have to stay tuned for consistency. I'm a little tired just thinking about it. Do they think I play video games for a living?
The blog post also contains details on a frosty new Helliquary raid boss, balance changes for Monk and Wizard, and a slew of bug fixes, so I recommend checking out the full notes in Blizzard's announcement post!