How to unlock new Support Hero Kiriko in Overwatch 2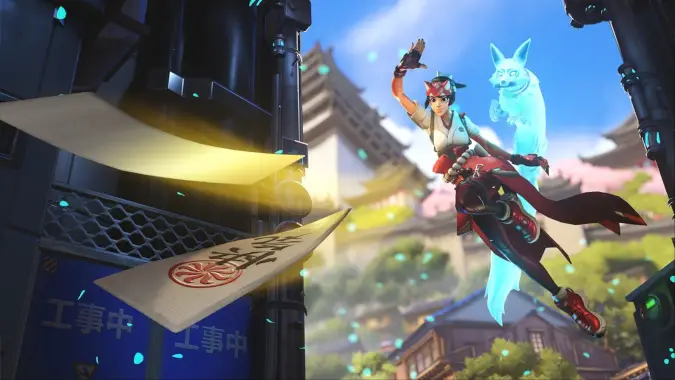 Kiriko is a new support hero coming to Overwatch 2, inspired heavily by the nine-tailed kitsune from Japanese folklore. She wields ofuda-style pieces of paper, and kunai, a traditional Japanese throwing knife, with healing and invulnerability in her kit — and yes, that is a pun, since her ultimate is a fox spirit. Perhaps most importantly, she can climb walls like Hanzo and Genji.
As with many things in Overwatch 2, the method for acquiring new heroes has changed. In Overwatch, you just got the ability to play new characters as they released. With Overwatch 2, you now have to acquire them one by one before you can play as them for yourself.
If you're worried about incoming heroes Sojourn or the Junker Queen, you can relax — both of these characters will be available to unlock for free for every player who logs in during OW2's Season 1, which begins October 4 with the launch of the game. So for now, let's focus on Kiriko, as the way you unlock her is the model for how every new hero is going to work going forward in OW2.
How to get Kiriko, and new heroes in the future
If you purchased the original Overwatch, you will have the Founder's Pack for OW2, and when it drops you'll get Kiriko on day one. This is unique to Kiriko specifically — don't expect to get every new hero gratis if you played Overwatch back in 2017. However, if you didn't buy the original game, there are still ways to get your hands on Kiriko.
If you purchase the Premium Battle Pass you immediately unlock Kiriko. The Premium Battle Pass also gives you access to various cosmetics and a Mythic skin for Genji, the Cyber Demon skin. This will be carried forward in new Seasons as well, as in Season 2 when there will be a new tank hero introduced. If you purchase the Season 2 Premium Battle Pass, you'll get that new tank hero immediately. The Premium Battle Pass will cost 1000 Overwatch Coins — about $10 USD — but you can earn the coins from playing the game as well.
Similarly, if you purchase the Watchpoint Pass bundle, it includes the Premium Battle Pass for Season 1. Purchasing the Watchpoint Pass doesn't explicitly unlock Kiriko, but the inclusion of the Premium Battle Pass grants you access to her immediately in the same way as the Premium Battle Pass does on its own.
However, if you aren't willing or able to spend money on the Premium Battle Pass, you can still unlock Kiriko with the free Battle Pass all players gain access to — just play the game and decide how quickly you want to unlock Kiriko. Kiriko is unlocked on the free Battle Pass track at level 55. You can progress to that point faster by making sure to complete the various Daily and Weekly Challenges to get more XP, but you also get XP by just playing. If you want her — and each new hero in later Seasons for Overwatch 2 — it looks like it's going to be a grind if you're trying to do it for free. I've seen estimates that it will take between 2 and 6 weeks to unlock new heroes via the free Battle Pass, depending on how much time you spend playing the game.