What Blizzard fans need to know about Xbox Game Pass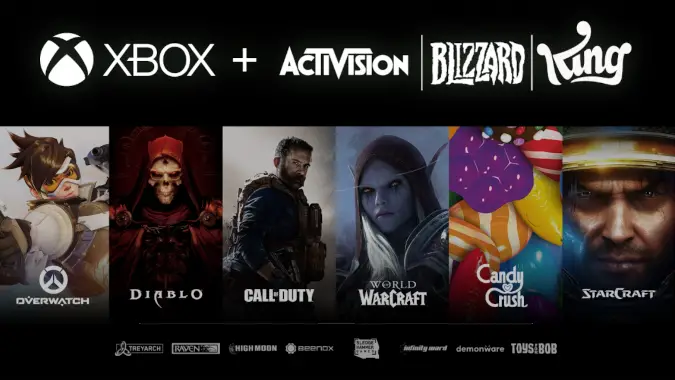 Microsoft's acquisition of Activision Blizzard sent ripples through the gaming world. When the dust settles, it looks like the game properties owned by each of the companies are going to have a much closer connection. That means Blizzard fans have extra incentive to learn more about the ins and outs of Xbox. We know that Microsoft expects to include its new properties in Xbox Game Pass. Here's what you should know about the program.
What is Game Pass?
Xbox Game Pass is a subscription service that offers access to hundreds of games for a single monthly fee. New titles are regularly added to the Game Pass library, and membership also includes access to Xbox Game Studios titles on release day. Right now, Game Pass includes hugely popular titles like Halo Infinite, Minecraft, Rainbow Six Siege, Forza Horizon 5, FIFA 22, Sea of Thieves, and Mortal Kombat 11.
How much does it cost?
There are three different plans for Game Pass. Two of them are tied to hardware. Both the PC subscription and the Xbox subscription each cost $9.99 a month. The only difference between these plans is that the PC plan automatically includes an EA Play membership. The Xbox and PC plans may have different game catalogs available just because some titles only launch on one platform or another.
The third choice is Game Pass Ultimate, which includes all platforms as well as membership to Xbox Live Gold, the service for console multiplayer and other discounts. The Ultimate plan is $14.99 a month.
If you are purely a PC player, then the PC Game Pass plan is probably the right choice for you. If you're on console and have any interest in titles with online multiplayer, then it's worth getting the Game Pass Ultimate. You'll actually save money over doing the console plan and an Xbox Live Gold membership separately.
When will Blizzard titles arrive?
There's no definite timeline for when or how much of the Blizzard catalog will show up in Game Pass. The best hints we have are to look at the other big Microsoft acquisition. The company announced its acquisition of Bethesda Softworks in September 2020 and the deal was finalized in March 2021. The same month as the merger finished, 20 games from Bethesda and its studios went up on Game Pass. Another batch of Bethesda games arrived on Game Pass in August 2022.
Since Microsoft's deal for Activision-Blizzard still hasn't finished, it could be awhile before we see the impact show up in Game Pass. Stay tuned.