Yes, Blizzard titles will join Game Pass after the Microsoft merger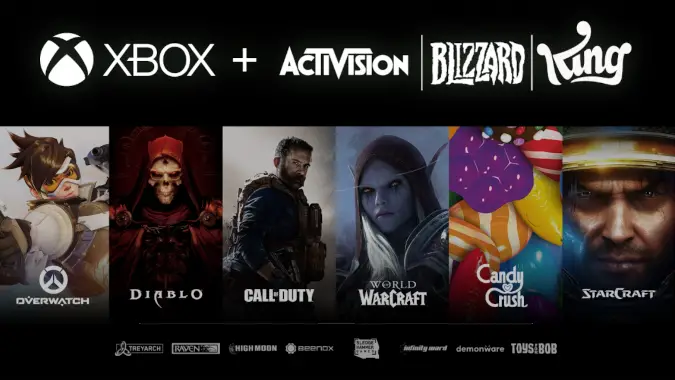 We've all had a lot of questions since the news hit about Microsoft's plans to buy Activision Blizzard, but one has been at the forefront since the original press announcement noted, "plans to launch Activision Blizzard games into Game Pass." Will Blizzard's titles hit Microsoft's Game Pass, and if so, which ones?
Phil Spencer, CEO of Microsoft Gaming, mostly answered these questions today in a post to Microsoft's blog on the division's views of the Activision Blizzard acquisition:
Subscription services like Game Pass make gaming more affordable and help players from all over the world find their next favorite game. Game Pass empowers developers to bring more games to more players, not fewer. We intend to make Activision Blizzard's much-loved library of games – including Overwatch, Diablo and Call of Duty – available in Game Pass and to grow those gaming communities. By delivering even more value to players, we hope to continue growing Game Pass, extending its appeal to mobile phones and any connected device.
Microsoft has issued a few formal news announcements regarding the acquisition. However, this was the first that went beyond a formal press release (although those links were included as reference at the bottom). In fact, it's the first post published by Spencer on Microsoft's blog.
It's an interesting read, especially in the name of transparency. Blizzard's development teams have tried to embrace more open communications with their player base in the past few years. For example, the quarterly updates from the Diablo 4 development team are a recurring glimpse into an active development process. Community-collab organizations like the World of Warcraft Community Council give the players a direct voice with the WoW development team.
However, this raises a few questions, specifically, around titles and timing. Going back to the example of Diablo 4 — would this become a Day One title on Game Pass, opening up the new release directly to subscribers without having to purchase the title? Would the acquisition even be completed enough by the planned mid-2023 release for it to appear on Game Pass immediately? What does Game Pass inclusion mean for other titles involving subscriptions or Battle Pass(es)? So far, Blizzard has three games with a recurring real-money option: World of Warcraft, Hearthstone, and Diablo Immortal. Could a higher Game Pass payment cover both my WoW subscription and future expansions? And let's not even look at micro transactions, which aren't currently part of Game Pass, but have increasingly been a part of Blizzard's offerings.
All in all, this has definitively answered a single pending question and raised a bunch more — pretty par for the course around big company acquisitions.