Upcoming Junkenstein's Revenge: Wrath of the Bride Halloween event will be a "taste" of Overwatch 2 PVE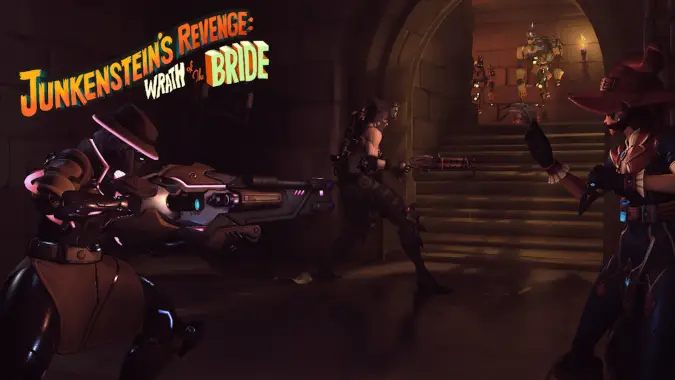 The announcement of PVE content for Overwatch 2 drew the attention of many prospective players, but we've been informed that this feature won't be releasing immediately when Overwatch 2 launches on October 4. However, even though we won't see the whole of the PVE content that was teased when Overwatch 2 was initially revealed, that doesn't mean that PVE players should pack it in entirely. We've been reassured by the dev team that PVE content is coming to Overwatch 2 in 2023.
Blizzard promises that PVE is a focus for the team, and they're using a new upcoming Halloween event — Junkenstein's Revenge: Wrath of the Bride — to showcase to the community how the PVE feature of Overwatch 2 will go. If you'd like a quick glimpse before the dates of the Wrath of the Bride event, October 25-November 8, there's a sneak peek in the Battlepass trailer.
What we know about Overwatch 2 PVE
So far, the Overwatch 2 team has told us the following about PVE content:
PVE content is not canceled
PVE content will release some time in 2023
It will consist of core modes, more than one of them.
The next Halloween Terror event, Junkenstein's Revenge: Wrath of the Bride, will serve as a "taste" of how PVE modes will work.
Sadly, that all the information anyone who isn't currently working at Blizzard can tell you about when we'll get PVE content in Overwatch 2, what form it's going to take, if it will be a fully sustained alternate path to play the game, or if it's just a few fun events the way it is in Overwatch.
I am jonesing over here. The motion sickness I get from PVP in Overwatch has kept me from playing it, and so I was super hopeful that I could get my feet wet in PVE when the game came out. Now that I know I'll be waiting until some unknown date in 2023, I'm what I would call bummed out.
Hopefully we'll get more information soon — what those PVE modes will be, how many there will be, if we can play them as more than one off events, and when we're going to get them in 2023. But for right now? They're still working on them, and if you'd like to sharpen your appetite for PVE, the Junkenstein's Revenge: Wrath of the Bride event is right around the corner.