Which modes are available to play in Overwatch 2? Is the Arcade any different?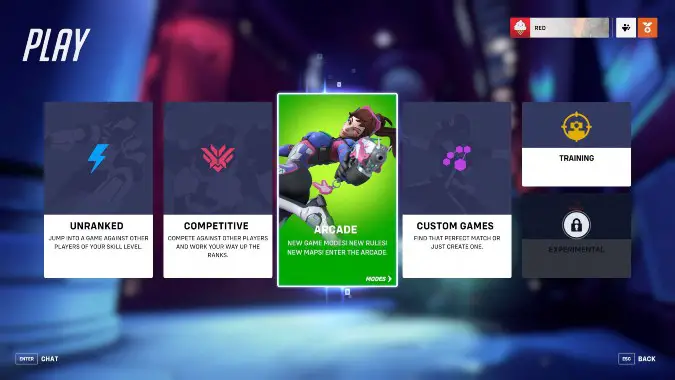 Not much has changed in Overwatch 2 when it comes to its game modes. The main menus you'll be greeted with upon hitting Play are Unranked, Competitive, Arcade, Custom Games, Training, and Experimental (not always available), which should indicate that things are largely the same as in Overwatch.
Both Competitive and Quick Play have Role Queue and Open Queue options. In Role Queue, you need to choose a Role (Tank, Damage, or Support) before you play, and you're locked to that role for the entire time. Whereas on Open Queue, you're free to switch between every hero at any point, regardless of their role.
Mystery Heroes has changed locations: it's now a sub-mode within the Unranked menu, instead of being in the Arcade. Unranked also includes the two aforementioned Quick Play variations, as well as the Deathmatch Free-For-All mode.
On the Arcade, No Limits is still a fixed mode that will always be available. The other modes, between old favorites and fresh features, change daily. Some of them include:
Capture the Flag, and its quicker variation, CTF Blitz.
Team Deathmatch (4v4).
Bounty Hunter, a mode where one of the players is the target that is being hunted by every other player. The target has increased health and starts with a full ultimate meter.
Low Gravity.
And there are also a few other modes that are promoted from time to time. For release, some of these include Push Maps mode, with games that are locked to the whole pool of maps with the new Push game type. In the Arcade rotation for release, there are modes where you play on only the Paraíso or only the Colosseo maps. It stands to reason that we'll see these popping up in the Arcade with each new map released, so players can ensure they're learning new maps with other players, instead of hoping they'll see them every so often in Quick Play.
Since loot boxes no longer exist, the Arcade obviously no longer features a track of loot boxes for your first nine weekly wins, with a reward after each three wins. But that is being replaced — in a sense — by the new Challenges pane within the Battle Pass on the main menu, which features Daily, Weekly, and Season objectives that count towards your current Battle Pass progression (in addition to Lifetime and Hero ones). Completing your first three daily challenges gives you a big progression bonus, and the same is true of your first three weekly challenges.
The Custom Games menu is much the same as before, allowing players to create their own games with whatever crazy rules they want. You can still swap codes with other players if there's a particular Custom configuration you really enjoy. Finally, Experimental — when it's available — includes games where the developers may test out different rule sets and balance changes for the Heroes.
The Training menu includes the same options as before: Tutorial, the Practice Range that players often use between games in order to try out heroes, and the Practice vs. AI mode, which lets you play regular games against bots on three difficulty levels (Casual, Hard, and Lethal).
All in all, the modes in Overwatch 2 are largely the same as before, though it definitely feels like the few changes seen here make things more organized.