What do you think CD Projekt Red's Project Hadar is?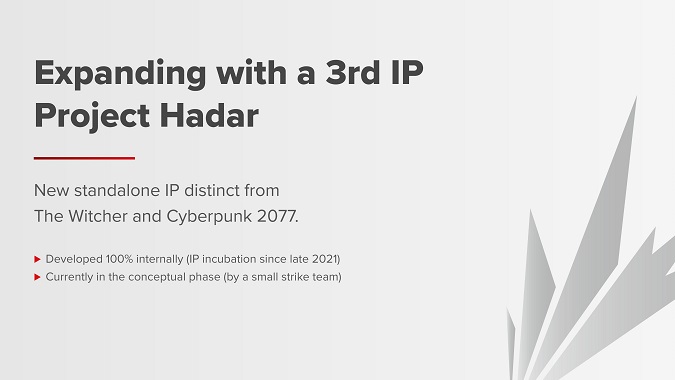 Earlier this week, developers at CD Projekt Red (CDPR) revealed their upcoming plans. While the news of a Cyberpunk 2077 sequel and more Witcher games got most of the press, I'm most intrigued by the announcement of a new IP project dubbed Hadar. So what could it be?
The fact that it's a new IP is actually a big clue — we shouldn't expect something like Arclight Rumble for the Witcher universe. While this doesn't necessarily mean it'll be an Action-RPG like their other two franchises, it makes strategic sense as a developer to keep doing what you're good at while you work on building your own story.
The time period/setting of the game is the big question. It seems unlikely they'll want to duplicate the environment of one of their existing games, but that doesn't necessarily exclude a fantasy or modern setting as there are other ways to differentiate. The name Hadar is likely a big clue, and while it's tempting to look at its various potential meanings as a name I think the fact that it's the official name of the Beta Centauri system points us to a sci-fi setting. While Cyberpunk 2077 is technically science fiction, there's a lot of room under that rubric to accommodate an outer space game that shares nothing with Cyberpunk — one wonders what CDPR could do with a Mass Effect-style game.
There's another aspect to the star system Hadar that may be meaningful; namely that it's nowhere as close to Earth as the more well-known Alpha Centauri system is. While the latter is a mere 4.4 light years away, Hadar is almost 400 light years distant — there are literally hundreds of thousands of stars closer to Earth than Beta Centauri. One is tempted to think that if they wanted an Earth-based spacefaring game they would choose a name indicative of that, such as Proxima (the designation of Alpha Centauri C). I could also see an argument that since it's "Beta" Centauri, the game takes place in the second wave of post-Earth settlement, functioning as a pseudo-sequel to all the various franchises that have referenced Alpha Centauri as the first colony outside our solar system.
Of course, Hadar might simply be the name of a CDPR employee's kid. I do think a space setting is in the stars for the new IP, but there are a lot of ways it could go. What do you think? Do you want to see CDPR create a new sci-fi game? Or would you rather they do something closer to or on Earth? And are you ok with another action rpg game, or do you want them to try something different?