The Queue: Spooky Scary Gelatins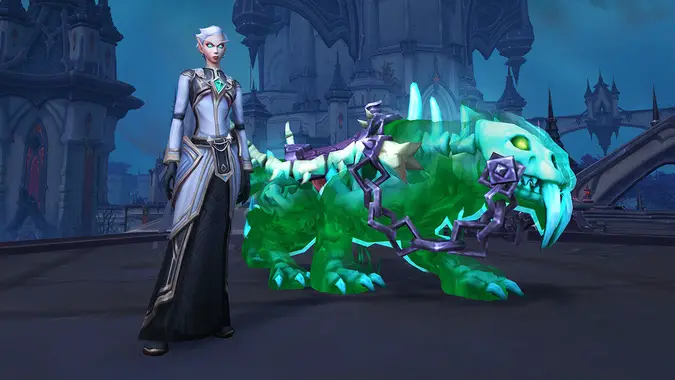 We talk a big game about Halloween around here but the fact is Blizzard already created the most creepy zone they ever will in Maldraxxus. The Jellycat is especially beloved, but my god is that thing awful.
This is The Queue, where you ask us questions and we'll pluck the answers from the air, one by one, much like these hairs springing from warty outgrowths. Brr.
---
SPOOKY MOVEWOW
Q4tQ: Over the weekend I was surprised to see the Warcraft movie on the Syfy channel. I recorded it and watched it later without the commercials. I still liked it. I wish they'd make more. I thought it was such an odd movie to see playing. It made me wonder if it had anything to do with the DF pre-patch. Has anyone seen any commercials for DF yet?
I'm not sure that it has to do with the prepatch. I think it's just about that time in general for it to start hitting cable, between its vintage (2016, so well over five years ago) and how well it did in American theaters (ie, it didn't).
Now, the advertising question is a different one, and more interesting. If they showed ads for Dragonflight during the Warcraft movie, that makes total sense. That's a dedicated crossover demographic, and given the themes of Dragonflight, it would totally sway some people who haven't picked up WoW since Wrath. And speaking of, I'd also expect some Classic ads in there.
I've also seen a lot of ads for Dragonflight on YouTube. My algorithm varies between random history stuff, Overwatch cinematics, classic literature, and Taliesin and Evitel, so it just makes sense to target those ads directly into my eyeballs. In terms of regular TV, the vast majority in my demographic and younger streams instead of just watching what's on, and I'm not exactly in the 18-35 demo anymore. They'll be getting far more traction out of advertising Dragonflight before the rap in the Kiriko trailer (NSFW, language, uh lol) than they would in the middle of Gray's Anatomy or Young Sheldon.
---
SPOOKY KALCHEUS
Q4tQ So what's your favorite track on Midnights? I think You're On Your Own Kid is mine (and I really want to create a "You're On Your Own and You're Gonna Go Far Kid" mashup), but Anti-Hero is up there.
Anti-Hero, for sure. Though to be fair I haven't really listened too closely to all the 3 am drops yet, so I'm still reserving judgement overall. And of course, I like the whole thing, but Anti-Hero really speaks to me.
---
THE SPOOKIER KALCHEUS
Q4tQ Are you going to have your toons kill all 3 World Bosses for the remainder of Shadowlands since they'll all be Fated?
Almost certainly not, and it just has to do with timing.
The prepatch event has a whole lot of stuff I want to do and experience before it expires, so that's a no-brainer. However, WoW isn't the only game I play, and Halloween is prime time for fun events I really love sinking my teeth into. The biggest one is the new Overwatch 2 Bride of Junkenstein event, which is supposed to be a precursor to the upcoming PVE modes. As such, I'm definitely going to be playing that into the ground. I'm also trying to stay relatively current with Hearthstone Battlegrounds. I'm almost finished with the Battlegrounds season, and I'm finding the curve there very good — as long as I stick with playing every day or so, I'm keeping current, but that also means I need to devote some playtime there every day.
In terms of Halloween events in non-Blizzard games, I definitely plan on checking out the new one in Cult of the Lamb, and I started playing Cozy Grove after Halloween last year so even though it's a rehash it'll be new to me (and full of stuff to collect). I'm also champing at the bit to get my hands on Saturnalia, a folk horror game coming out later this week, which is also going to be the free game on Epic starting Thursday. There's also an upcoming update to The Long Dark which looks excellent, but also I need to finish out any current games because of the version shift.
And that's before I figure in my real life stuff. Between actually trick-or-treating, various school and kid activity events, League of Legends Worlds this weekend in my city, and NaNo-freakin-WriMo eating huge chunks of time, continuing to kill random bosses even though the gear is really good is so far at the bottom of my list. I wouldn't really be able to make time for that unless they postponed until January when winter break is over.
And now I'm glad y'all didn't ask a ton of questions because holy h*ck do I need to go lie down.