The Queue: Queue's Haunted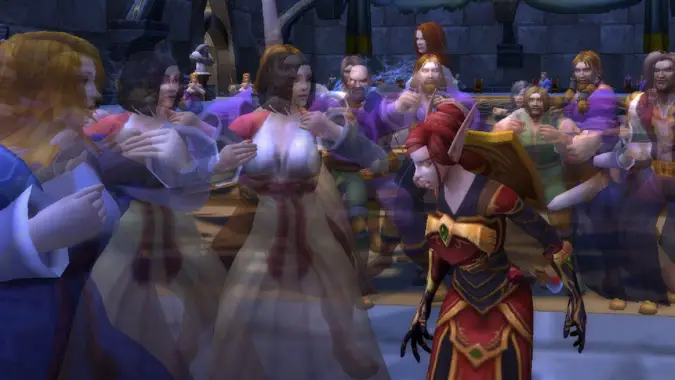 In a fun look behind the scenes, our frequent commenters may not know that the Queue is in fact haunted. It's the site as a whole, but there are certain temperamental quirks involved in writing and posting the Queue which make it the epicenter of this particular haunting. One of the easiest ways to get the spirit to show itself is to post a very long response, though embeds and other media have also been known to break it, as has overall length of the column. So no, I won't be answering Cory's longass question about all ten freakin expansions up til now.
This is The Queue, where you ask us questions and we'll salt the doorways.
---
KALCHEUS
Q4tQ Which faction do you plan on making your first Evoker?
Horde, which ties into my answer below. It's funny because if pressed I feel like I identify more with the Alliance than the Horde in general, but I've been playing almost exclusively Horde since just after Draenor, after being mostly evenly bifactional since Cataclysm.
---
KALCHEUS
Q4tQ Do you plan to take advantage of the "free" (i.e., doesn't require a level 50 toon on the server) Dracthyr to create one on a new server?
Probably not. For me, the main reason to roll alts are all utility, and those reasons are generally tied to the server my main characters and existing alts are on. Mostly funneling materials and goldmaking stuff.
The one exception would be to go to underpopulated realms to tame pets like the old Qiraji Guardling more easily, but I don't think that's really a thing so much anymore.
---
MUSEDMOOSE
Q4tQ: what would you wear to the Queue Convention / BlizzWatchCon so people know it's you?
I'm pretty sure I can get a set of wearable moose antlers without too much trouble. The real trick would be painting them blue and not screwing that up.
Probably my BW staff shirt and a nametag that says "NOT ANNE STICKNEY."
---
BOVEN WHITEHOOF
So it's come down to three possible names for my dragonboi. Which should it be?
Dracwingduck
Figment
Rodgort
Figment, for sure. It's a fun name that isn't overly memey. While meme names are fun for a while, if you keep hold of them long term they can start to get really grating before you know it.
---
SJHAWK
Q4tHearthstoners – Out of your Top 5 Heroes played in Battlegrounds, can you recall when you last got any of them as an option? It might just be entirely RNG on my end, but I haven't been offered any of my previously high rotation heroes during Season 2, that i can recall.
C'thun is #4 in my Top Played, and he was my most recently chosen, because his stat boost with the double end of turn quest is bananas. I went out #1 with a board that was mostly Dragons, plus an odd golden Impulsive Trickster which pushed my Taregosa's health pool to nearly 300 by the final turn, and a Mantid Queen for extra cleanup. My quest was Yogg Cakes, which almost completely screwed me by swapping my early big juicy Taregosa stats over to the dang Prized Proto-Drake, but it ended up working out really well by adding an additional beefy body I didn't really have reason to sell off anyway. I also have a Greybough in my Top Played and Most Recent, though he went out #5 after getting a whole bunch of bells and whistles for Beasts — Leapers and Parrots — but not those summons cards that makes him a powerhouse early/midgame.
I'll add that I do have the Battlegrounds Seasonal Pass (and for full disclosure because ethics, it was furnished to me by Blizzard), so it's possible that I just got those because it was a choice of four rather than two. It's also possible that this is a way they can intentionally boost the ratings for the Seasonal Pass people, by offering them their most played outside the original two… though C'thun isn't in my top by wins, so it may be a trap, anyway.