The Queue: Nobody here but us dragons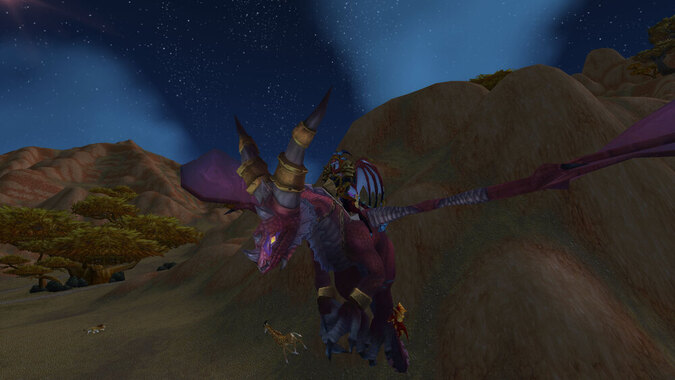 When you read this there'll be five hours to go until Dragonflight launches. If I've done my math right that is. However, I was under the impression that there'd be no math — so don't quote me on that.
The days leading up to a new expansion launch always feel surreal to me. There's so much to do and simultaneously nothing to do! Everything will be different in a day and we'll have all new goals and reputations to get, so does one more loop around Zereth Mortis really matter in the grand scheme of things? Sure I may finally get the Hirukon mount, but that'll still be there in a day, week, month, or even a year.
It does make for some good time to pop around and do things one last time before you start exclusively focusing on Dragonflight content. Maybe your next kill of the Sha of Anger will finally be the one that gives you the Heavenly Onyx Cloud Serpent!
You should definitely clean out your bags though. While I go through mine to see what sparks joy, it's time for — The Queue.
---
CARRY ON MY WAYWARD KALCHEUS
Q4tQ Are you planning to log into all your toons to start rested xp after the launch, or do you plan on waiting a few days before cycling through them?
They still have their rested XP from the last expansion! I have done terribly at playing my alts at all this expansion, and I don't see that changing soon. I've become a one Bear kinda guy in my old age. Sure I don't get as many chances at rare mounts as players with multiple maxed-out characters, but I don't think that's held me too far back.
I do have that fancy otter mount that's made of stars. So I think I'm doing pretty ok at collecting things.
---
THERE'LL BE PEACE WHEN RED IS DONE
Q4TQ: what will your characters take with them from Shadowlands, in terms of transmog, mounts, pets, titles, etc.?
My mage, for instance, really embraced the Necrolords aesthetic. I loved the covenant ability to turn into a Skeletal Mage (shame it didn't become a talent for Frost). She'll carry that look forward (and her Jellycat pet as well).
Well, I'm sure I'll always be a Party Herald. Blizzard developers will have put in some long hours and many pots of coffee to come up with a better title than that.
---
STEWART TOLHURST WAS SOARING EVER HIGHER
So, on the last day of Shadowlands I have revisited its best content. I mean, of course, the Ardenweald play! I think I've only done it a couple of times, so it was nice to revisit after quite a while. I just love the way it pokes fun at everything that happened in Legion and BfA – the story is so convoluted even Lady Moonberry can't keep it straight :D
That's a funny way to spell Ember Court…
---
BUT ENO FLEW TOO HIGH
Did dungeon on my bear for the first time and I was thinking I was terrible at guardian tanking but healer died like three times due to debuffs during the dungeon, so I'm thinking I may have just been with a newbie healer XD
Finished the dungeon though
That being said, damn guardian is kinda weak at tanking compared to the other tanking classes… unless I just had a bad talent tree for dungeons which could be possible.
More bears!
There are some definite drawbacks to being a bear right now compared to the other tanks. Who've all seemed to pick up more of their big flashy fun artifact, Covenant, and legendary powers as talent options in their trees. I still love mine though!
I'm just eagerly hoping that they'll take another pass at the bear stuff for 10.1 and see if they can maybe freshen up the rotation and tree a bit. The last time it felt like bears were the best tank was back in Legion when we still had the magic damage version of Ironfur.
---
THOUGH KALCHEUS'S MIND COULD THINK, THEY STILL WERE A MAD MAN
Q4tQ how many max-level toons are you entering Dragonflight with?
Three! As well as an unused boost for having Dragonflight.
My bear who will continue to be my main.
My Vulpera Fire Mage named Firefox, who got leveled on the strength of that name alone.
My Evoker Drakwingduck, which is neat but I'm unlikely to play seriously.
I am very glad that Evokers can use so many weapons though, I had a few cosmetic pieces from Zereth Mortis that I couldn't use because I didn't have a max-level character that could swing two-handed swords.
---
AND IF MUSEDMOOSE CLAIMS TO BE A WISE MAN, WELL IT SURELY MEANS THAT THEY DON'T KNOW
Q4tQ: what color is your dracthyr?
I finally bought the expansion today, and just got through the evoker starting area. Not bad, not at all, and I think I'm really going to like dragonriding once it gets going. But I was at a loss for what my dracthyr should look like until I thought… what if dragon, but also void elf? That's how I got this:
Red! The red ones go faster.
I also liked that I could be so pointy all over. I feel proper dragonish that way. The wingtip armor is also very nice. What really has impressed me the most with the Dracthyr so far though is the run cycle. It's a very well-made animation and whoever did the work is definitely being underpaid.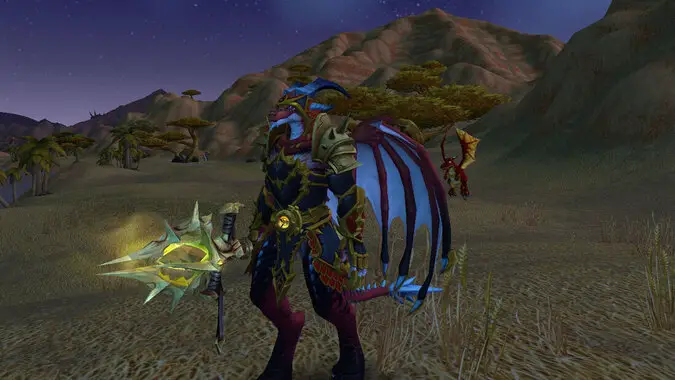 ---
NOW YOUR LIFE'S NO LONGER EMPTY SURELY VEILSTRIDER ROXXII WAITS FOR YOU
Q4TQ: Has your guild discussed Dragonflight plans? If so, has there been much change? Do you have many evokers joining the ranks? We had ours and only one of our healers (a holy priest) is swapping to preservation. We had a few lateral moves but nothing else.
We're looking at 26 people for our raids right now. Numbers wise it looks like there'll be five Evokers, which is a lot but not as many as the number of Druids we have. Which is 6 — a bear, two trees, a cat, and two boomkins! We've always been a very Druid-heavy raid.
Most importantly for our raiding, we have every buff and debuff covered. This feels increasingly silly, and I still wish that they'd add second options for the DH and Monk debuffs.
Today's Anna Earworm™: Carry on Wayward Son
Have fun storming the castle everyone! For the record, I did manage to get my Druid's bags cleared out enough that I have 118 available slots! Go me! The trick is being ruthless.
Don't have so much fun with the Dragons that you forget to ask Anna lots of questions tomorrow!