The Queue: Anybody got any fours?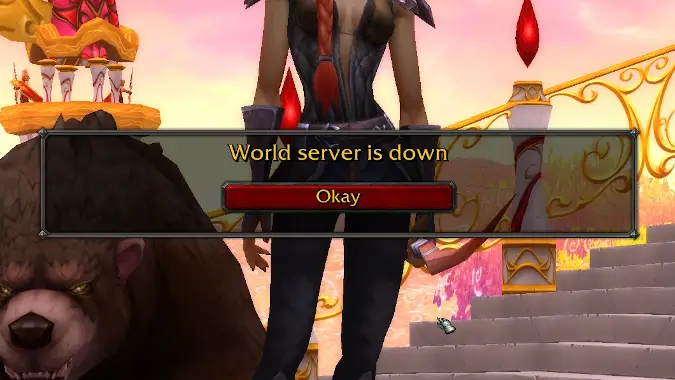 I gave it a couple hours before I gave up for the morning, and I took that opportunity to write The Queue. I have plenty of other stuff to do, so I'm not too annoyed, but Rutherford? Dude is positively seething. Look at that glare. Brr.
This is The Queue, where you ask us questions and then we'll answer. I mean, what else are we gonna do right now, play cards?
---
GLOWING METEOR CARROT
Anyone know of an addon that'll tally up all your gold total? I used to let WoW do this for me on the login screen until I started hoarding tokens
There are several which do this, but my personal favorite is TitanPanel. I've been using it since BC as an at-a-glance data UI thing, and it's still being updated with new stuff, though apparently there are a few modules that need a little work as Dragonflight launches. It's lightweight and has a lot of different integrations and addons-within-the-addon you can add to the addon, but the gold count module is a part of standard TitanPanel.
Like all the other gold total mods I know of, it works by just aggregating the totals of your gold as you're logged in, so you have to log in each character so it can cache the information to be accurate. As such, it also won't auto-update gold count if you do things like play on another computer, or use the app to interact with features like the mission tables or AH via mobile.
Go fish.
---
MAGECOOKIES
So do you think the group Imagine Dragons should be Dracthyr and giving concerts in a bar in a dragon isle capital city?
No.
Go fish.
---
DRAGONPUNCHER ROXXII
Q4TQ: Hunters: what are you/did you tame first in the Dragon Isles?
Heh, good one. Between Rutherford threatening to bite off my fingers and, you know, not being able to get there, I'm not taming anything. I'm definitely adding a duck at my first convenience, though. Just to say I have one.
Go fish.
---
ERMELYN PITTS
QftQ: Playing DF and LOVING IT! But I have to ask, is level scaling broken? I'm in Waking Shores and I'm level 61 but all the things I fight are level 60. Not complaining, just wondering. :D
Nah, they scale when you're part of the way through the level. Otherwise, your reward for doing well and leveling up would be suddenly harder fights, which feels rather bad. This way, when you level, you get the instant power spike from the slight stat up and new talent point, and then get to collect a bit of gear at the slightly higher item level from quest rewards before the monsters scale up. That feels way better, though you may suddenly hit a bit of difficulty in the middle of your levels and not realize why.
Go fish.
---
XERIANNE
7 hours 21 minutes later than I planned I am finally logging in to the expansion.
So any problems at launch or did it go as smooth as it could with the world logging in at the same time?
Answering the call and heading out.
This is a two part question where each half can be true, even if it seems paradoxical.
Was the launch smooth? That actually depends a bit. While I was stuck just outside the gates of Orgrimmar trying to mount up for twenty minutes, and then trying to log out for a half an hour to adjust my addons, and then having to force quit the client to even log off, it was not smooth. However, Mitch made it to the Dragon Isles and began leveling. He actually made it to level 70 around seven hours after launch. After another series of aborted server transfer attempts, I elected to just stay in Orgrimmar, play a couple rounds of Hearthstone Battlegrounds without an APM build so I could simultaneously write the Queue, and then go to bed.
But did it go as smoothly as it could, with server loads being at the highest they've been in literally years? Possibly. Once you made it past the bottleneck in the capital cities, it seemed like the experience was incredibly smooth. In a way, it's almost like this was that stupid surveying telescope from back in Warlords. If you were stuck and waiting on your turn to escape it was awful. If you got by it quickly, it wasn't even noticeable. And since I'm but a lowly games journalist and not a server infrastructure engineer, I don't really have a way to say whether it went better or worse than could be expected. But honestly, I usually expect much worse than happens.
Go fish.