WoW Trading Post feature will allow WoW players to earn cosmetic rewards each month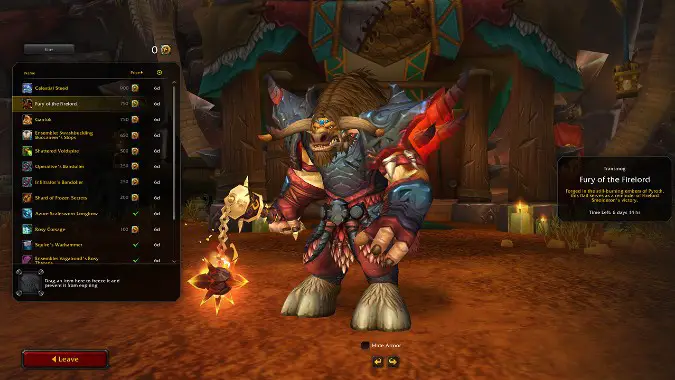 World of Warcraft players are getting a new feature with the Trading Post, which will allow them to earn currency that can be traded for an assortment of cosmetic rewards. Those rewards, which will rotate each month, include transmog pieces, pets, and mounts, though there might also be other things.
The Trading Post will include both brand-new items and old favorites — even items originally from promotions that are no longer available, or items that could only be found on the in-game store. Which means that it'll be the first time that many of those items will be acquirable without the need to spend real money.
You'll find the Trading Post in Orgrimmar and Stormwind, and you'll need to visit it in person to see what items are being offered at the moment. All the items can be purchased with a new account-wide currency called Trader's Tender: you'll get some Trader's Tender every month without doing anything, and you can earn more by completing in-game activities. Although these values are subject to change, right now this is how much you can earn:
500 Trader's Tenders can be collected automatically every month from a chest at the Trading Post
Up to 500 more Trader's Tenders can be earned by completing monthly in-game activities found in the new Traveler's Log
Those in-game activities, which will change every month, encompass a variety of activities, like completing quests, running battlegrounds or dungeons, participating in holiday activities, or even fun and silly things like resurrecting other players or "showing some love to the Dragon Aspects" (probably by emoting at them, we assume). In theory, there should be a way for every kind of player to find something they want to do that will earn Trader's Tenders, and walk away with their monthly currency — and new loot. Your progress can be tracked in a bar at the top of the Traveler's Log, which you'll find in the Adventure Guide already in-game. Also, it's important to remember that since this currency is account-wide, you're limited to the same amount regardless of how many characters you have.
This is a fantastic way to motivate players to engage in casual activities and work towards some goodies every month. The fact that you can choose which rewards you want to purchase is great, since it increases the odds that there's something that will appeal to every player — and the rewards are set to rotate, so even if you miss a reward you want, there's always the possibility it could come back a few months later. The ability to earn items that were added to the in-game shop without needing to spend real money is incredible as well.
You can read all the details about this exciting new feature at the official blog, and you'll be able to test it Soon™ on the PTR. No word yet on when it will roll out, but we'll be keeping our eyes open.