WoW
Dec 13, 2022 11:00 am CT
How to watch the Vault of the Incarnates Race to World First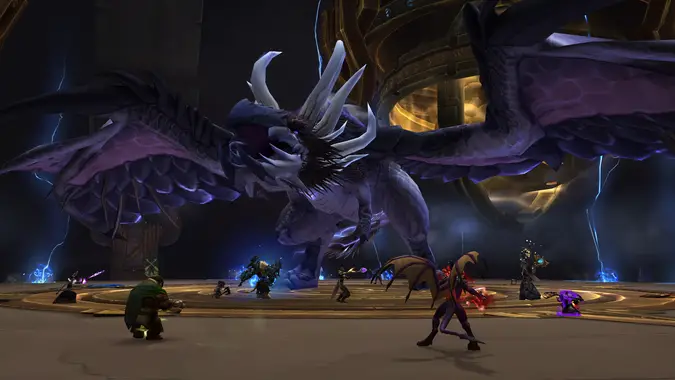 WoW's Race to World First is upon us once again, as the Vault of the Incarnates raid opens today on Normal, Heroic, and Mythic difficulties. Soon the top guilds from around the world will be competing to be the first to beat Raszageth the Storm Bringer on Mythic difficulty. Like all races since the beginning of the Battle for Azeroth expansion, this one will be broadcast live on Twitch by the various organizations involved. The top guilds are all well-versed in running these events now and promise some top-tier productions with full rosters of on- and off-air talent to ensure that you can follow along with every pull, victory, and heartbreaking wipe.
You can find fully produced streams and in-person raid teams from Method, Team Liquid, BDGG, Echo, and Aversion. Each of them will also have many of their raiders streaming their own point of view alongside the main event. Sadly Sepulcher of the First Ones' fourth place guild SK Pieces has hung up its raiding hat and won't be participating in the Vault of Incarnates race.
Here's where you can find all of the different guilds' main streams.
Echo
The Race to World First returns December 13th.

Join us live from @erupt_lounge in Bern, Switzerland for 24/7 Vault of the Incarnates coverage in collaboration with @bigdumbgaming. ⚔️

Follow now at: 🔴 https://t.co/oNJ0YbnhVp pic.twitter.com/aa2xmIczBF

— Echo (@EchoGuild) December 1, 2022
Echo is back and looking to prove that they are the top guild in the world. With an in-person raid team broadcasting from a facility in Switzerland, they'll be battling to stay ahead of every other guild that's coming for their number one spot. Their stream will be going 24/7 with up-to-the-minute coverage through a partnership with BDGG to fill the downtime between North American and European servers.
Method
Presenting Method's Race to World First: ⚔️ Vault of the Incarnates ⚔️

Powered by @HyperX @kingstontech @Twitch @Warcraftlogs @RaiderIO_WoW

-December 14th-
📺 https://t.co/cKUPeqTKds pic.twitter.com/d70JPrRIWb

— Method (@Method) December 6, 2022
Method is looking to reclaim the number one spot from Echo after rebuilding its raid team over the course of Shadowlands. The guild saw consistent improvement over the course of the expansion and managed to take second place in Sepulcher of the First Ones.
BDGG
⚔️ Let's Raid The Vault ⚔

This Tuesday, the team delve into the Vault of the Incarnates & you can catch every second:

🇺🇸📺 https://t.co/EU0hSdZyvo 📺🇺🇸

Presented & powered by @Ticketmaster 💛

BDGG are back. pic.twitter.com/RYVCWIWRsO

— BDGG (@bigdumbgaming) December 10, 2022
BDGG are back and ready to make their best shot to get into the top five guilds in the world. They finished Sepulcher of the First Ones at tenth place, which is a strong showing, but not quite as good as some of their other Shadowlands performances. We'll see if they've used their downtime between expansions well.
Team Liquid
Team Liquid presents Race to World First:
✨⚡VAULT OF THE INCARNATES⚡✨

December 13th // 9 AM PST
⚔️ https://t.co/ghF5yXcRXy
📺 https://t.co/YRTn4S8h0w pic.twitter.com/PQhyh1MJ0t

— Liquid Guild (@LiquidGuild) November 21, 2022
Team Liquid is ready to battle back strong to prove that Sepulcher was just a stumbling block. Despite reaching the Jailer hot on Echo's heels, the guild wound up falling behind and facing mounting pressure and low morale. Instead of continuing to make endless fruitless pulls, the team took a couple of days off to rest and recuperate. Now they're back to try and prove that they're the number one raiders in the world.
Aversion
Die gute Nachrichten zum Race hören nicht auf 🥳
Bock auf einen Raidtalk?
Morgen 19:00 auf Twitch – lets GOOOOOOOO

Mit dabei @Nexxzz (natürlich!)@senfiowl @Squallne
Zugar
& Flinkx https://t.co/4eiiUxU7hK pic.twitter.com/ALaTUtUSZO

— Aversion (@Aversion_DE) December 11, 2022
Rounding out the biggest streams is Aversion. Broadcasting in German, this EU guild was 19th in the world for Sepulcher. I love watching the competition grow around this as more guilds get in on the Race to World First.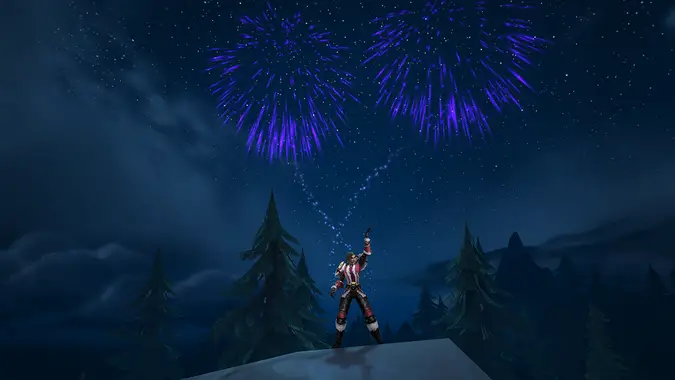 The Perpetual Purple Firework
For anyone who watches at least two hours of streams during the Race to World First on Twitch, you'll also be awarded the Perpetual Purple Firework toy. This promotion runs from December 13 to December 28, 2022, and is only active on specific streams. The official Warcraft news post has the list of chosen streamers and you'll have to make sure that your Twitch account and Battle.Net accounts are linked — similarly to the recent giveaways for the Nether Drake and Windsteed.
Will we have another unkillable crab on our hands again? Will Raszageth be a one-week pushover like Xavius was? We'll have to tune in to find out!