The Hearthstone Winter Veil event begins, giving 10 free packs to all players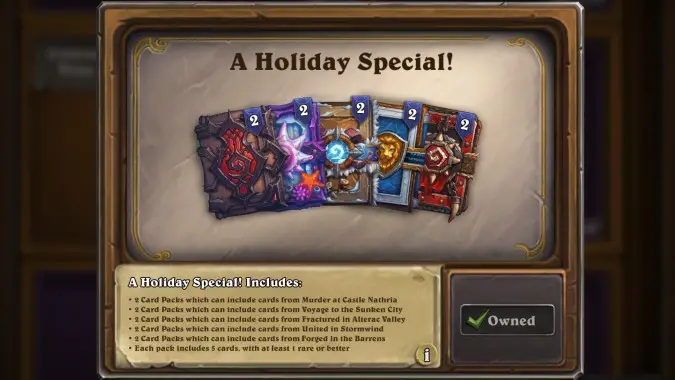 You can get 10 free Hearthstone packs right now as part of the Winter Veil event! All you need to do is head to the in-game Shop, scroll until you find the "A Holiday Special!" bundle (it will be the bundle marked as "free"), and click it. It doesn't get easier than that!
The special bundle includes two packs from each of the most recent Hearthstone expansions before the current one, March of the Lich King. That means:
This is a great chance to fill up your collection with cards that are still valid for Standard mode — that is, the "main" version of the original game mode, centered around building decks with cards in your collection that belong to the last two years of expansions. That's because the packs players will most commonly earn — whether from bundles you can find in the shop, or from in-game rewards and achievements, or even from sources like YouTube and Twitch drops — are either from the current expansion, or the evergreen Standard packs. This bundle, on the other hand, basically contains cards from every possible source except for those two, letting you broaden out your collection a bit.
This Holiday Special gift is only a small part of the greater Winter Veil event that is about to start. Look for the Winter Veil track on December 21, which you'll progress through via seasonal quests to earn rewards for both Constructed and Battlegrounds. There will also be a couple of holiday-themed Tavern Brawls — two reruns with Wacky Waxy Winter's Veil and Gift Exchange — which will become available on December 21 and 28, respectively.
For Battleground players, there's a new Battle Bash, which is already live. These events let you "bash" open a box of rewards to earn Battlegrounds goodie randomly — for a $10 fee. But even if you don't want to spend any money you'll get one bash for fret get a random reward. And finally, there should be a few new seasonal deals on the in-game shop starting December 20, if you're into that.
You can find the details on everything that's part of the Winter Veil event at the official blog. Now stop reading this and go get those free packs!
Initially published December 13, 2022. Updated December 15, 2022.