What are your favorite side quests in Dragonflight?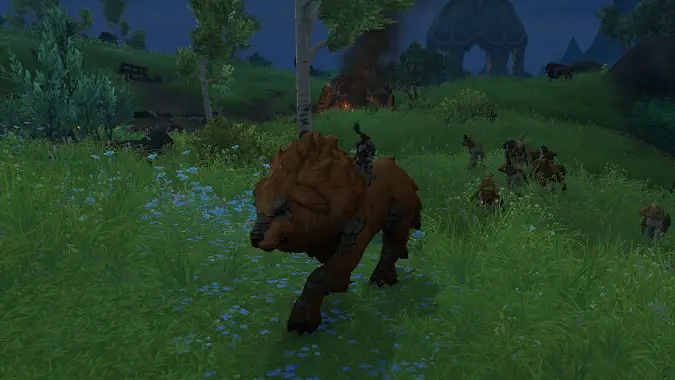 One of the joys of Dragonflight is how the quest team has really relaxed the stakes, especially when it comes to side quests. Sure, we're still trying to stop Raszageth from overthrowing the Dragon Aspects, but that doesn't mean we can't take time to help characters find romance or train whelps to fight. Even members of the Black Dragonflight are taking a day off and gifting us with a companion if we resupply their drinks. This is a welcome change from serious vibes of Shadowlands and even from Battle for Azeroth to a lesser extent (where the side quests tended to have you fight ghosts or blood trolls rather than acquire gifts for other NPCs).
While the narrative stakes of a lot of the side quests aren't that high, that doesn't mean they don't have emotional stakes. By far my favorite quest chain in the expansion is that involving Taivan, the oversized Bakar (AKA good boy) who is struggling to find his role among the Maruuk Centaurs. I'll be honest, the quests brought me near to tears a few times because he was trying so hard and struggling. I won't spoil the end, but the payoff was more than worthwhile.
Other quests lean into their silliness; who knew that a spirit could persist for over 10,000 years simply because he wanted to win a proto-Hearthstone tournament? It's not all jokes, though; a couple times I found myself stunned that buried amongst the small stories were hints of future events of potential significance — an Anomalous Shrine may have a solution for the "Murozond Problem," and that Black Locus I stumbled upon was definitely an object of concern. Speaking of whispers, what is happening at Three Falls Lookout anyway? And how many ducklings am I going to have to rescue from the Gorlocs before they get the hint?
These are just some of the side stories I enjoyed while working on my Loremaster meta-achievement. Have you found the side stories in Dragonflight to your liking? How do they feel to you after Shadowlands? And what's your favorite side adventure you've done so far?