The Queue: An Engaging Queue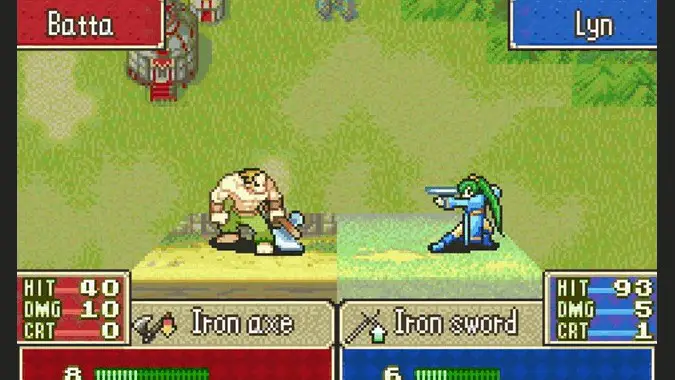 I wasn't really planning on writing a Queue themed after the upcoming Fire Emblem Engage, but the questions dictated it. So I guess a certain tradition I have will be maintained: I don't always write The Queue, but when I do, it's themed after a non-Blizzard game (or series).
But worry not, for there are quite a few Blizzard-related questions here as well. This is The Queue, let's do our thing!
---
ARTHONOS IS ALL ABOUT ENGAGEMENT RINGS
Q4tRed: Favorite Emblem Ring from Fire Emblem Engage?
Oh, it's gotta be Lyn.
The Blazing Blade was my first Fire Emblem game — it was probably a lot of people's, since it was the first one released outside of Japan. Of that game's main characters, Lyn resonated with me the most. I liked that she was a Lord character with the Myrmidon / Swordmaster archetype, but able to use both swords and bows. That, combined with her slick design, and her background as the princess of a nomadic people growing up on the plains — quite unlike the more "aristocrat" main characters we usually get in the series — made her super compelling to me.
Her Emblem Ring's effect seems useful as well. It's similar to the Desperation ability from Fire Emblem Heroes, allowing the character she's linked to use their second attack before the enemy can counterattack, as long as they have a high enough speed stat. That seems like a good ability to have, and very fitting for Lyn.
So yeah, she's my choice. I just think she's neat.
---
KALCHEUS MAKES ME THINK ABOUT BRUSHING MY TEETH
Q4TQ Which of the two characters are you picking in Fire Emblem Engage?
Toothpaste girl's hair is way too long, but from the videos, it looks like we can pick a ponytail hairstyle for her which looks considerably better.
Toothpaste guy runs really weird.
It's an easy choice.
---
BIRDWATCHER ROXXII TAKES 16 DAMAGE RANDOMLY SPLIT BETWEEN HIM AND HIS MINIONS
Is this the worst Hearthstone meta or just the worst Hearthstone Twitter meta?
I'll say this is the worst Hearthstone Reddit meta, because that's where I see the most complaints — and because on Reddit, every meta is the worst meta. But as fast and burn-happy as the current Renathal-less Hearthstone meta is, I don't find it particularly worse than some of the other "problematic" metas we've had.
A few adjustments absolutely need to be made:
Rogue's "Miracle" turns need to be made a little harder to achieve (maybe it's time to mess with Preparation?), and Maestra shouldn't allow Wildpaw Gnoll to get discounts from drawing Rogue cards before the "class flip."
The Demon Hunter Questline's mana-cheating is another potential problem they might need to address. It's a little too easy to play spell damage minions and burn spells from hand right now.
It sure would be nice if Astalor wasn't an auto-include on nearly every deck.
Those are some of the more egregious issues, and once they get fixed, I feel like the meta will be in a better place. Though they should probably also buff Warrior a tad. Long term, Control as a whole needs to be made more viable, but I feel like that's gonna have to wait until the miniset.
---
MUSEDMOOSE MAKES ME MULL
What was your first WoW character, and how long did you play them?
An Orc Warrior that I played for about two days before I decided "I don't like this game, it's not the Diablo 2 replacement I had been looking for." Warriors were really tough to level back then, and Durotar wasn't the kind of environment that appealed to me.
A few days later, I gave the game a second chance, rolling several other characters of different races and classes, trying to find one that I enjoyed more (the altoholic lifestyle had already chosen me, it seems). Eventually, I really clicked with the Human Mage, and that one became my first main.
---
GLOWING METEOR CARROT GETS TWO BECAUSE I LIKE CARROTS
If they ever did do player housing, do you think we'd be able to have centaur rugs?
Of the races/genders, which ones do cool flips when using melee abilities?
I mean, hopefully. Centaur rugs really tie any room together.
Female Pandaren have the best melee animations in the game, and it's not even close.
---
KALCHEUS NEEDS TO PRAISE YOGG, THIS AIN'T NO BREWFEST HEAVEN
Q4tQ What is your favorite Old God, and why?
I feel like the only correct answer is "all of them." Is this a trick question? I can't really pick one, right? It's all of them. Are they w̸a̵t̸c̴h̵i̶n̴g̸ ̸m̵e̶? I know they're watching me r̶͍̈i̴͇̒ĝ̶̰h̷̺̐ṯ̷̊ ̷̖͋n̶͖̎ow. I̴ ̴c̵a̵n̴ ̵s̷e̷n̴s̴e an eyeball. Behind my neck. It's l̴o̸o̸k̷i̴n̴g̴ ̸a̴t̴ ̶m̶e̴.̶ It neve̶r̴ ̸b̴l̷i̵n̸k̸s̸,̵ ̷m̵a̵n̶.̵ ̸I̵ ̵c̸a̶n̴ ̶s̷e̸n̶s̷e̸ ̶i̴t̶.̵ I̸ ̶c̶a̴n̴ ̷f̴e̶e̶l̵ ̶i̸t̷.̷ ̸P̶l̶e̸a̸s̸e̷ ̵m̴a̵k̷e̶ ̸i̶t̶ ̷g̶o̴ ̵a̵w̵a̷y̵.̷ ̸I̷t̸'̶s̵ ̸m̵a̷k̴i̵n̷g̶ ̸m̵e̸ ̸s̶e̷e̸ ̶t̷h̶i̵n̷g̵s̷.̷ ̶I̸ ̷s̷e̶e̴ ̴w̷h̴a̸t̶ ̸i̵t̸ ̸s̵e̸e̴s̵.̸ ̴I̸t̵'̸s̸ ̵m̴a̵k̵i̷n̴g̸ ̴m̴e̵ ̸s̵e̸e̵ ̵t̵h̴e̴m̶.̴ ̸I̴ ̴c̵l̵o̷s̷e̶ ̴m̴y̵ ̵e̴y̷͔͍͙̏̋e̸̩͉͗̑̓͆͠s̴̱̩̺̈̾͘ͅ ̵͓̗̄́͑̇̄͝ḅ̷͚̥̃͝ư̸͙̍͑t̸̞̆̈́͛̌͊͆ ̵̙̳̿̽̅͝I̶̞̤͊̓̀̀͒ ̴̡̡̙̥̔́̽͝c̶̟̋̍͛͘͠a̴͓͇̳͕̰̓̒͑͠ǹ̴̺͕̰͛̏͜͠ ̶͔̮́̀̽̎̽̅s̵̛̥͙̜̋̏̈́́̋ͅţ̷̘̰̺̫̯̀̎̍̊i̴̮̮̬͗̊̀̈́ļ̸̛̬̘͙̎͆͊̀͆͜l̴͎̩̒̔̊̾ ̴̗̙̬̥̘̭͌̽̆͆̇͛s̷̼̥̙͚̩͌͐͊͊ë̵͇́e̶̩̤͕̯͕͊͐ ̵̯̠̤̌͠ṭ̷̠̳͛̒͠ḧ̷͕̥̠̫͖̘͒́ė̷͇̲̜̠̪͝͝͝m̶̡̝̉͋̇̒͂͂.̵͚̾͂͊̽̂ ̷̳̰̤̲̎̅̔̏̚̕Į̵̯͑̚ ̵͔͓̾͜l̶̫͂̋ȍ̸̜n̴̪̤̉ğ̸̘̥ ̵̣̿͜f̷͚͖̭͆͘o̵̯̣̓́ͅr̵̢̗͎̃ ̷͇͉̆̋̇t̷̲̩͓̅h̸̼̏ȅ̶͙͉͌̕͜ ̶̙̺̥͋̓s̴̩̽̂͒w̶̟̣̆̒̀é̷̮̎̇ͅe̷̖̝͆̕̚t̴̠̼͒ ̶̧͙̣͒̚ẻ̷͚̣̭̏̔m̵̳̉b̶̠̑̓ŗ̶̣̞̈́͝a̴̤͒͒͜͠ć̵͔̼e̵̱̰͂ ̶̳̈́̓ó̵̝̄͑f̴̰̀ ̷̢̭̑̽ͅd̸͙̗̣̄͝ä̶̩̟́̆r̵̗̲̀k̴̭̒̈́n̴͖̰͒͌̂ě̷̢̥s̶̏ͅs̷̰̳̈́͂͑ͅ,̴͍̦̋ ̶̡̱̯͆̎͘b̶̢̽́̀û̴̧ţ̸̮̝̿̌̃ ̸̤͚͙̃e̶͆̿̔͜v̴̝̹͆e̷̞̩̩͐͝ń̸̫͙̅ ̶͍͖̩͗͋̑w̵̥͝i̷̫̓̚ť̸̯̮̞͘h̶̗͊ ̸̯̱̘͊̀m̸̳̥̳̒̀͛ẙ̶͚͓̈́̈́ ̷͚̃͐ē̵̞͛̔y̵͇̰̐̄̕ě̷̦̟̲͛̑l̷̜̥̦̀i̸̩͍̿̈d̶̼̀s̸̖̦̺̀̋ ̶̨̓s̷̩̬͚͆̿̈́h̶̫̻̄͊u̷̙̓͋t̵̛̜̲͈̑̓̚͜,̴̭̭̉͛̒͒ ̵̧̄̔̅͝Ī̷̳̪̲̇̀͛ ̸͇̜͎͑ś̵̨̲̕ţ̴̱̥̎͑͒͝ḭ̴̫̆̿̽l̸̤͈̲̂̕ļ̶̫̍̏͛ ̷̜̆̾̈́͛s̶̲͐́̿̀ē̴͙̱͗̋̿ě̶̡̢ ̵͎̄͗̀͝t̸̳̞͂́͌̐h̷̖̠̳̗̏̄͘ě̷̞̿͊͌ṁ̴̧̤̙̭̉.̴̱̩̬̪̄͋̌ ̵̲̈P̴̩͙̻͔̿́͝l̴͙̟̔͑ͅe̶̢͈̯̠̎͌͋͘å̷̟̦̎̓̈́͐̀̊̏͒́̈́ş̶̠̳͙͒̌̔͊̃e̸̝̹̼̰̓̓̀̈́́͋̆̂̆̉͘ ̴̮̣̈́̆̆̃́͐̿̈͛͗̄̈́m̶̜͕̩̟̤̺̫͊̀̑̎̏̇͂͛͝a̶̩͉͖͈̦̅͋̿͋̌͐̔͝k̸̹͕̗̣͒͊͋̈́̓͆̀͆͘e̸̼̥̻̪͚̻̅̈́ ̵̜͓̼͚͍͖̖̌͑̈́t̴͙̗̜͚͓̱̥̥͇̩̭̅̂͝h̴̛̝̲̪̦̫̝̮͖̙͓͛̎͑̑͑́̔̅̚͠͠ͅę̷̛̝͎͉̝̥̭̝͕̣͆͛̐ͅ ̸̔̇͑͛͘͜͠ȅ̶͇̚y̴̡̡͔͔̭̾̅̆́̉͂̕ĕ̴̺̉͗̅̓̈́̌͊̇͛̿̇s̴̢̯͖͍̱̬̰̼̯̮̲̑̑͆̀͊̈́̈́ͅ ̶̙̀̑̂̊̕ģ̷̧̛̮̥̭͎̠͎̖̤̪̖͆̌̇̇̔͝o̵̧̧̭̤͚͇̲̳̿̌͛͝ ̸̗̈́͛́̍ä̵͙͇͉̜̩͓́̈́̓̓̽͜w̸̛̪̫͋̑̎̐̀̔͠ą̷̧͚̲͔̠̹̹͓̊̓̉̇̊̐͌ẙ̴̥̻̮̒̇͐̄́͝ͅ.̷̥̥̠͉͓̮͊̇͌͊̔̃̀̈́̚͜ͅ
---
I'M OKAY NOW. I'M GONNA ANSWER TELWAR'S QUESTION
What was your most recent kitchen "disaster?"
Suffice to say, there was a t-shirt inside the microwave.
This has been The Queue! Make sure to ask lots of questions for tomorrow, and be good to each other.