WoW
Jan 24, 2023 11:00 am CT
All of the rewards for the Trading Post, coming in WoW patch 10.0.5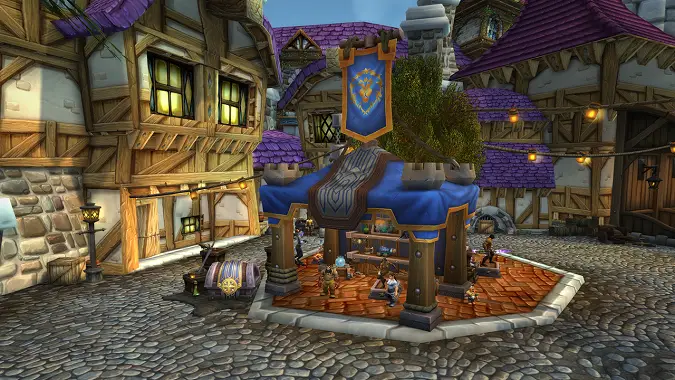 Patch 10.0.5 brings us the Trading Post, a new reward system for World of Warcraft on a monthly rotation (the first one begins February 1) that allows you to earn currency by logging on to WoW during a month as well as completing the Battle Pass itself. This currency, called Trader's Tender, is then spent on various rewards. These rewards include cosmetic items for transmog, mounts, battle pets, and more.
Many of these rewards are completely new, but a few have been around for a while, so let's discuss the Trading Post and the rewards you can earn.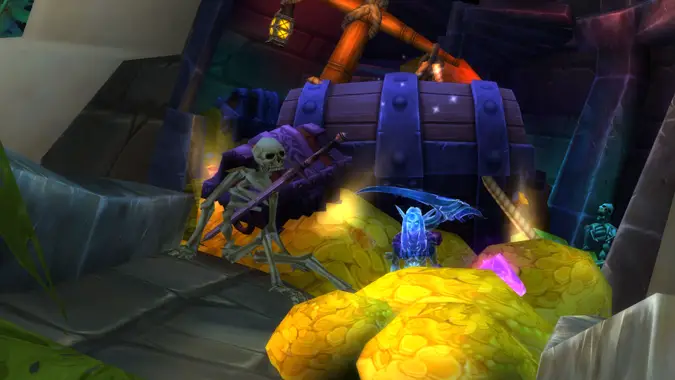 How can I earn the Trader's Tender currency to spend?
You'll earn 500 Trader's Tender for logging in during the month, with up to 500 for completing in-game activities during the month. These activities are outlined in the new Traveler's Log, and will vary. Some of the activities include doing things you'll probably do anyway, like quests or running dungeons. During seasonal events, you'll likely get a prompt to go honor an Elder or touch a bonfire or give Greatfather Winter a cookie. For completing the Traveler's Log, you'll also get a reward which is likely to stay somewhat unique. February 2023's reward is a big cat mount with a shifting color scheme called Asha'dar Harbinger of Dawn.
This de facto cap of 1,000 Trader's Tender per month means you'll have some decisions to make, since you won't be able to get all the rewards on offer — at least, not in the first few monthly rotations. Should you focus on one of the more expensive rewards like the Celestial Steed — 900 Trader's Tender — or the Fury of the Firelord transmog 1h weapon for 750? Maybe splurging on multiple less costly rewards like the Rosy Corsage, the Vagabond Rosy's Threads transmog ensemble outfit, or the Squire's Warhammer, all for a cheap 100 Trader's Tender is more your speed.
Of course, these are just the February rewards — the Trading Post resets on a monthly basis, with potentially different items to look out for, so if you choose to let the priciest items slide you may not have another chance for quite a while.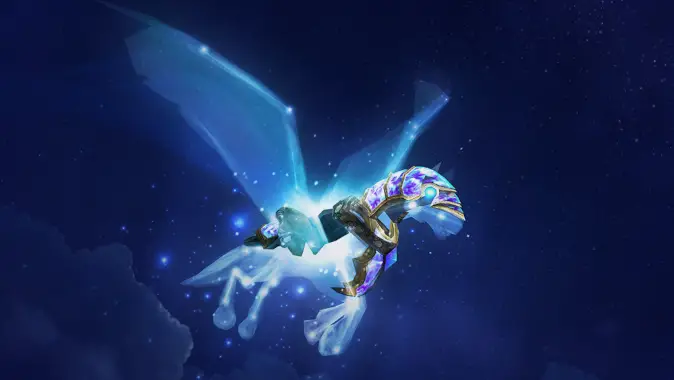 What can we expect from Trading Post rewards?
I think for the first rotation, some players it will face a hard choice between the Celestial Steed and the Fury of the Firelord. Since the Celestial Steed costs a whopping 900 Trader's Tender, buying it will basically be it for the month — but since the Celestial Steed is an item that dates back to Wrath of the Lich King, and it only came off of the Blizzard Store on January 2,  if Dragonflight players wanted it they could've just bought it. Meanwhile, the Fury of the Firelord is slightly cheaper at 750 Trader's Tender, meaning you could pick up two of the lower ticket items, or one of the more expensive ones like the Operative's or Infiltrator's Bandolier cloak transmogs (250 Trader's Tender) or the slightly less pricy Shard of Frozen Secrets for 200.
An interesting wrinkle here is that while most of these items are new in patch 10.0.5, some are potentially unused models or different color version of older models. The Azure Scalesworn Longbow resembles a bow model from an unused Wrath of the Lich King drop while the Shattered Voidspire uses the model from the Edict of Argus staff that dropped in the Hellfire Citadel raid from Warlords of Draenor, only colored purple. So they're new, but they're also old.
Ultimately, my opinion on these items and the Trading Post in general is that it's nice to get free stuff for showing up once a month, but the top shelf items are pricey enough that you'd really need to be sure you wanted them, because you'd be giving up a chance on anything in a similar price ballpark. The Shattered Voidspire is 500 Trader's Tender, for example — buy that, and you're saying no to both the Celestial Steed and Fury of the Firelord, you won't have enough left over. Holding on to your currency for the next month might be the smart choice, or the item might not be there at all, so it's get it now and be sure, or get it later… maybe. You can freeze one item a month, however — so if you really can't decide, you can freeze one of the purchases to ensure it will be there next month when you have the tender again.
Still, there's also the excitement of knowing that next month, maybe we'll see Tyrael's Charger or an Ensemble of the red color variant of the Battlegear of Wrath worn by Ruul the Darkener. Maybe instead of buying anything at all, while Gaarlok the tiny Ogre Battle Pet may be incredibly cute, he might not be as cute as a battle pet that may pop up as March's reward so you should save your Tender for now. And while Wowhead has datamined some things they conjecture may be on the slate in later months, this means every month's a clean slate — and a gamble — with the Trading Post.