Balance of Power Artifact appearance unlocks will be account-wide in patch 10.0.7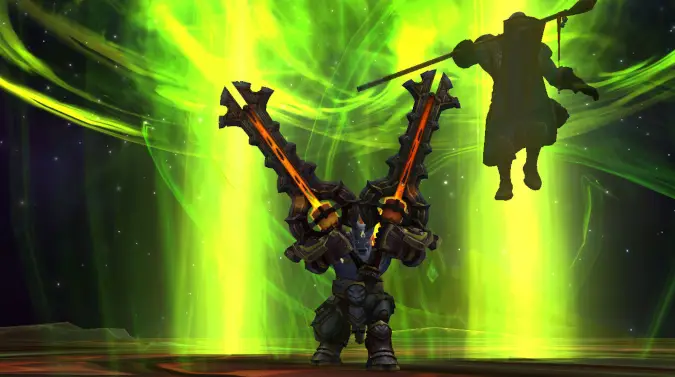 Of all the artifact appearances we saw in Legion, the lengthy Balance of Power quest rewarded my favorite one. I didn't manage to get it during Legion — my guild finished up with Nighthold before I could, and there wasn't a ton of interest in running the place after that. But I persevered and got it done in Battle for Azeroth by basically brute forcing the remaining Nighthold bosses I needed. I'm glad I did, because it remains a treasured part of my transmog collection to this day, especially now that I can use it for my various Fury sets and get to dual wield it.
So this one little passage in the patch notes for 10.0.7's PTR caught my attention.
The Balance of Power questline artifact appearance rewards are now account-wide. After unlocking the base appearance, the criteria for additional color variants (such as the Glory of the Legion Hero and Unleashed Monstrosities achievements) may be completed on any character to earn the appearances. For example, completing the requirements for certain color variants on your hunter, will also be unlocked on your priest that's on the same account.
This is amazing for a variety of reasons. One, it means my Paladin and DK alts won't have to go unlock Balance of Power, or get the various achievement appearances. I'll just do them once on a suitable main and then they'll be opened up for all of my characters, not just my Warriors. I don't know how many of you play multiple alts of the same class, but this change is basically how the Balance of Power appearances already work for those — I didn't go back and complete Balance of Power four times, but I have been using the appearance on all of my various Warriors for years now.
It's also amazing because it gives me hope that other alternate artifact appearances could also be affected in a way to make them less onerous to obtain — or even possible to obtain, like the Mage Tower stuff. While it's entirely my own fault that I don't have most of these and I don't mind, I do feel bad for players who weren't playing when the Tower appearances were removed who can never get them. At the least appearances like the Fel Werebear skin could be made available for people to get a shot at the looks they want now.
Ultimately, anything that makes an appearance more accessible for people in transmogrification, like this change will, is a positive one in my book. The Balance of Power appearances are really some of the nicest ones, and I'm excited for people who will find themselves with more options in patch 10.0.7 thanks to this change.