For beating the winter blues, Cuteness HQ prescribes treatment with cute samoyed videos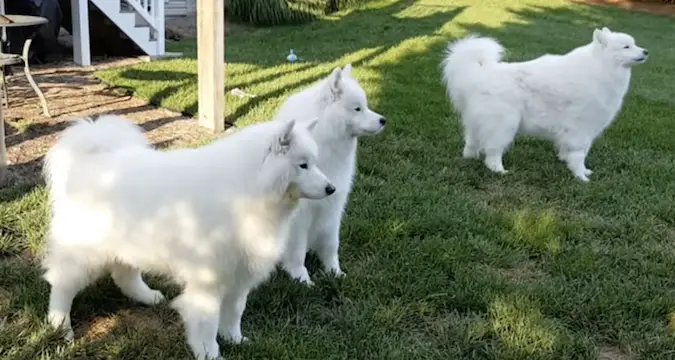 It's February, which means for those of us in northerly climes, we're in the doldrums of wintertime. I don't especially like this season, when things feel so cold and dreary for weeks on end. But the one good thing about winter in my book, is that it makes me think frequently about samoyeds. All that majestic floof looks like the best way to stay warm, and their fur is the same hue of a freshly-fallen snowbank. So this weekend, whether or not you're feeling the funk of seasonal affective disorder, Cuteness HQ recommends watching a bunch of samoyed videos. May their adorable awoos make you smile!
Samoyeds, the most musical doggos
Such thrilling harmonies!
They'll sing along with actual music too
Who knew canines could be opera buffs?
And they'll even serenade you in their dreams
Zzzzz….awooooo….zzzzz……awooooo…..
Peep this precious pack of playing puppies!
They're just the roundest little snowballs ever.
It takes a lot of work to look this good…
But as the saying goes: #worthit.