The Queue: Jubilant for your inquiry!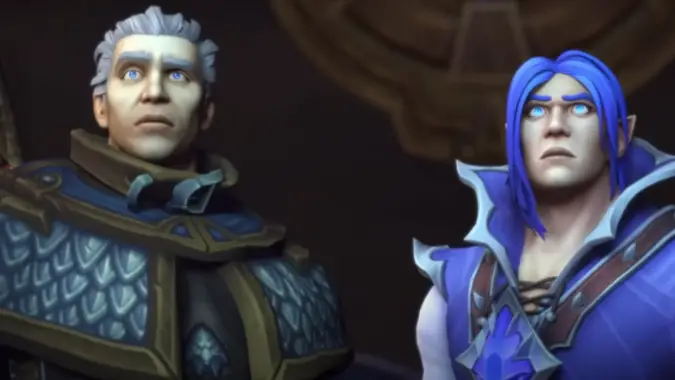 Hello and happy Wednesday! Like my coworker, Anna, I always love it when I get questions. Which is why today, I'm expressing that love with each question, also like my coworker, Anna.
With that in mind, let's dive right in!
---
RJAGODA GOT AN ANSWER, BUT IT'S STILL A GOOD QUESTION:
Help me, Queue, I'm having a crisis of memory. Wasn't there a WoW book that was delayed a couple times last year? Did that come out? What was covered in it?
Greatest jubilance for your inquiry!
You're thinking of the "pre-Dragonflight" novel that was listed on Amazon last May. Interestingly, the link now says the book is coming out on Halloween of this year… which would fit pretty well with BlizzCon timing, if we're assuming it happens the first weekend in November.
---
ACE17 JUST HAS TO KNOW:
QFTQ:
What's for breakfast?
Greatest jubilance for your inquiry!
Coffee. Maybe toast? I dunno, I don't eat until way later in the day than I should, so I don't have an answer for you, despite it almost being noon.
---
ARTHONOS IS CURIOUS ABOUT TODAY'S NINTENDO NEWS:
Q4tQ: Are you hoping we will get more info about Zelda: Tears of the Kingdom in tomorrow's Direct, or do you feel you have enough info and want to play that game with as little info as possible? Breath of the Wild benefited greatly from the sense of discovery going into it, and since Tears of the Kingdom is a direct sequel I almost feel like I don't want to see anything else before the release date.
Greatest jubilance for your inquiry!
I've been thinking about this a bit today, and I think if Tears content comes on, I'm going to watch it only if it's a story/hype trailer. I don't really want a deep dive into gameplay — you're exactly right that the fun of BOTW was discovery. (Frankly, I remember thinking BOTW was the first time in a long time that it felt like I was playing vanilla WoW again, discovering things as I went with no outside resources and a whole world in front of me.)
In fairness, though, I'm this way about most entertainment lately. Show me hype trailers (for games, not movies) and give me some news — but I don't necessarily need to know every detail about everything. It's more fun to be surprised, and it took me a while to realize how much of that fun I'd lost* by spending so much time dissecting things ahead of their launch.
*Broadly speaking, of course. Sometimes, dissecting teasers IS the fun.
---
TELWAR IS CURIOUS ABOUT PROFESSIONAL CHANGE:
Now while I'm thinking about it:
Q4TQ: How often do you switch up a character's professions?
I remember hearing about people switching for FotM and bonuses, but…I have switched professions on my stable of toons 3x:
Main paladin went from Mining/Skinning at Vanilla to Mining/Blacksmithing before TBC launch purely on the strength of Stormherald.
Rogue started as Herbalism/Skinning in Vanilla, switched to Herbalism/Mining in late Vanilla so I could sneak into BRD and mine Dark Iron, to Herbalism/Alchemy for Wrath.
That's it.
Greatest jubilance for your inquiry!
I honestly couldn't tell you when I switched to Herbalism/Mining on my Priest (maybe MOP?) but I'm far too lazy and poor to put the effort into most professions, to be blunt. I'd actually forgotten because it's been so long, but I think I used to be Herb/Alch to help with money while also helping with raid materials.
In any case, I don't see myself changing anytime soon. The convenience of gathering professions on my main has been too nice. If I really want to have fun with a "weirder" profession like Engineering, I'll funnel ore to an alt or something.
---
RJAGODA ABSOLUTELY DEFINITELY LOVES TRANSMOG AND WANTS TO KNOW…
Q4tQ: Should Evokers have a MT appearance created for them?
Greatest jubilance for your inquiry!
Nah. If they want to give Evokers some sort of unique appearance, give them a new quest that still challenges them but also actually give us new lore. The class is too new to spend time focusing on how they can fit into old content — give us new things!
---
RETPALLYJIL IS A-WAITIN' FOR THOSE TICKETS:
Q4tQ:
For, lo, the winter is (nearly) past,
The rain is over and gone
The flowers appear on the Earth
The time of the singing of birds is come
And the BlizzCon announcements are happening … when?
Greatest jubilance for your inquiry!
In past year, BlizzCon dates haven't been announced until April-ish, with tickets usually going on sale sometime in May. Bit of time left before we'll hear something, I suspect!
That's it for today's Queue. Thanks once again for asking queuestions of us writers. Please keep up the good work and make tomorrow's writer some variant of joyous!