How to avoid beta key scams for Diablo 4 and other Blizzard games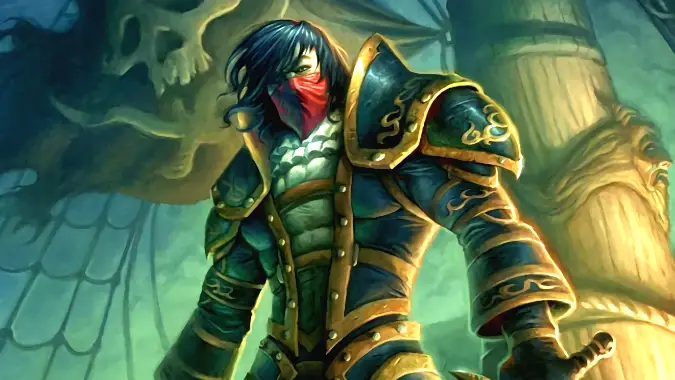 Spring is almost here in the northern hemisphere, which means the birds are migrating, flowers are blooming, and Diablo 4 will soon be starting open beta testing. Normally if you want to get in on any of these Blizzard beta tests you have several options, but for Diablo 4′s open beta testing your options are fairly straightforward: prepurchase the expansion to get automatic access the weekend of March 17, redeem a promotional code for that same weekend, or wait until the following weekend and get access without doing anything besides downloading the game.
That's pretty exciting, but the problem with being excited about beta invites is you start to let your guard down, and that can make you more likely to jump on beta key scams. When betas start, scammers get busy setting traps: you might receive an email saying you're invited to the beta, and just need to click a legitimate-looking link and enter your info to confirm. Even with the relatively straightforward method for accessing Diablo 4 open beta, players should still be wary — especially those who haven't pre-purchased and suddenly receive a link to get special early access. An additional complication is that it appears you'll need to redeem a code if you prepurchased for a console instead of PC (see redemption instructions below). If you jump on something like that without thinking, before you know it you might no longer be in control of your account. So to quote the opening of Hill Street Blues, let's be careful out there.
How to sign up for the Diablo 4 beta (and other Blizzard beta tests)
Normally if you want to participate in a beta test, you need to make sure you've signed up for an invite. With Diablo 4's open beta weekends, however, you don't need to do anything of the sort — prepurchasing the game for PC is enough to flag your account. If you have prepurchased for a console you should receive a redemption code. Beware of clicking login links in emails! Even if you're positive the email is genuine, go to your account page directly to enter your username and password — don't do it from a link. This is especially good advice if you didn't prepurchase and are simply waiting for the full open beta the following weekend.
Typically the Blizzard email does not link you to a login page or any site that asks for your password: every link is to a news article or to download the Battle.net desktop app. That's one of the signs that the email is legitimate; the words you need to be looking out for at all times is "log into your account now" because that is what you don't want to do.
If you're waiting on early beta access for PC you don't need to wait on an email, though — you can check the Battle.net launcher to see if you have access starting on March 17. Sometimes, you may need to restart your launcher for alpha and beta tests to appear. The beta should appear in the Game Version dropdown list; with Diablo 4 not being released yet it is likely to be the only option.

How to redeem Blizzard beta codes
Those who have prepurchased for console should receive an email with a redemption code prior to the start of the early access open beta, which you'll redeem with the platform you purchased on. In addition, Blizzard tends to give codes out to content creators and news sites for disbursement, or may run a special promotion. That means you may find keys for early access to the open beta offered in a variety of different places even you haven't pre-purchased.
If you do get a code — regardless of where you get it from — don't click any email links to activate your code and don't give anyone your account information in exchange for a key. The only place to redeem early access open beta key codes for Diablo 4 is on the official Diablo 4 beta page: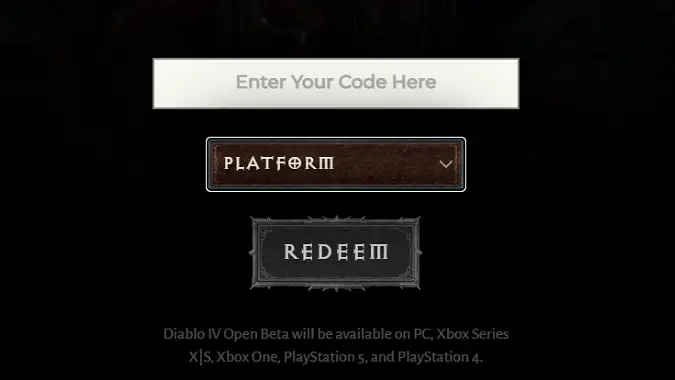 Enter your code, select which platform you're using, and click Redeem to flag your account for early access.
Remember to be safe when it comes to your account information, and never give it out in the hopes of receiving a key or invite. Good luck, and may the odds be ever in your favor!
Originally published September 20, 2022; updated February 22, 2023