Live out your mariachi fantasy with the white-quality transmog Haliscan outfit in patch 10.0.5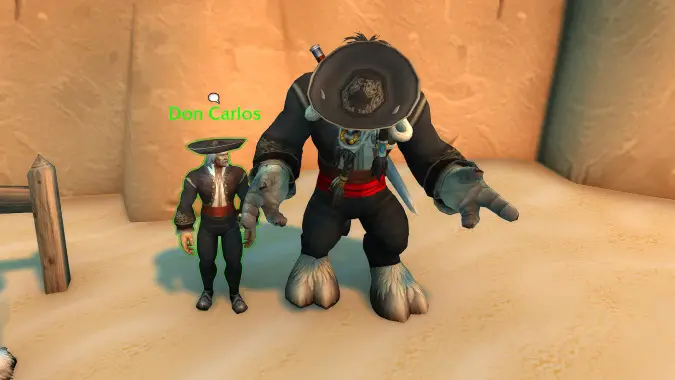 Thanks to patch 10.0.5 and the ability to transmog white-quality items, you too can finally look like you're just taking a break from performing with a mariachi band to do some questing on the Dragon Isles. The Haliscan Jacket and Haliscan Pantaloons, formerly cloth items craftable by tailors which didn't see much use outside of level 1 locked PVP due to the amount of armor on them, are now able to be transmogged — as is the matching hat, the Haliscan Brimmed Hat, available to most characters via some time-travel shenanigans in Tanaris and the Caverns of Time.
As a bonus, these three pieces are now cosmetic rather than cloth, so they're accessible to everyone for appearances! You'll be lacking some shoes, though; maybe accessorize them with something simple like Noble's Fancy Boots or Dress Shoes. If you're able to wield two-handed axes and get remarkably lucky at the Black Market Auction House, maybe you can complete the musical look with the Sun-Lute of the Phoenix King. Who says there's no Bard class? If you want to look like the hat's former owner, he's wielding a single rapier, along the lines of an Adamantite Rapier; if you're using a caster offhand, show your enemies you have a romantic side as well by pairing it with a Bouquet of Red Roses.
If you want to get your hands on these items, you'll have to do a little tailoring — or know someone who does — and a single quest. The jacket and pantaloons do require a fairly high level of Classic Tailoring (245 for the pants, 265 for the matching jacket), but since the recipes have been around since sometime during The Burning Crusade, it's highly possible you or someone you know already owns the patterns. If not, they're available for a few gold from Haughty Modiste in Gadgetzan — who also conveniently sometimes sells the pattern for Dress Shoes. While you're in Gadgetzan, check around outside the north wall for Don Carlos; this is the NPC who will give you the quest Nice Hat…, which sends you back in time to beat up a younger Don Carlos, steal his hat, and bring his hat back to his present self so he can give you his hat. (Time travel is confusing.) There's one exception to this: for whatever reason, this quest does not appear for Dracthyr Evokers, so you'll have to do the quest on some other character, but they can wear it once you've obtained the appearance.
Accept the quest, head back to Old Hillsbrad Foothills in the Caverns of Time, but don't start the whole Escape from Durnholde — instead, immediately head south and look for him along the road with his pet wolf and beat him up for his hat. As a bonus, if you're doing this in Heroic difficulty, Don Carlos will also drop a toy version of his hat that summons a spirit coyote to accompany you!