When does Diablo 3 Season 28 end?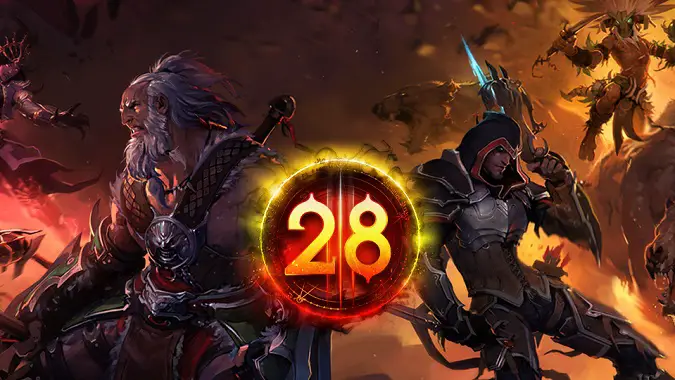 Diablo 3 Season 28: Rites of Sanctuary is now live, and even though the Season is brand new we're already thinking about how much time we have. Whether you're enjoying the Altar of Rites and its insane power-ups or you're already waiting for something new, let's take a look at when Season 28 might end. My estimate? Season 28 will end on Sunday, August 20, 2023.
But Blizzard hasn't announced a Season end date — and likely won't until we're much closer. So let's dig into why I think the Season will end in late August. While D3 seasons don't have a set length, they were previously somewhat consistent in their run time:
Season 24 — Started July 23, 2021, ended December 5, 2021. Runtime? 19 weeks, 2 days
Season 25 — Started December 10, 2021, ended April 10, 2022. Runtime? 17 weeks, 2 days
Season 26 — Started April 15, 2022, ended August 21, 2022. Runtime? 18 weeks, 2 days
Season 27 — Started August 26, 2022, ended February 19, 2023. Runtime? 25 weeks, 2 days
Season 28 — Started February 24, 2023.
Seasons 5 through 20 averaged 12.5 weeks, but we started experiencing longer windows in Season 21 in mid-2020 as teams adjusted to working from home. After that, the 18-week average became the norm. And then Season 27 threw a rock into that cycle's window with a runtime of six months.
Season 27's length prepared the D3 community for maintenance mode as we look forward to Diablo 4. An end date of August 20 lands us right at the six-month cycle we know from Diablo 2 ladders after the release of Diablo 3. But don't forget, this is just a guess!
The other possibility is that Season 28 ends soon after the D4 release; however, this is unlikely. Blizzard has navigated overlapping games before, between D2 and D3. The team knows that D3's season engagement numbers will drop off after June 6. We won't really know the end date until the Diablo community team updates us. I would be surprised if we don't receive some additional details before the D4 launch.
And remember, it's not just D3 on the community radar now; it's also Diablo 2 Resurrected and the associated ladders, plus Diablo Immortal and its rapid 4-week seasons (correlated to battle pass rotation). With Diablo 4's scheduled release, we're preparing for the next seasonal phase of the Diablo franchise. Now go out there and earn yourself an angelic dragon pet.