The Queue: The not so itsy bitsy spider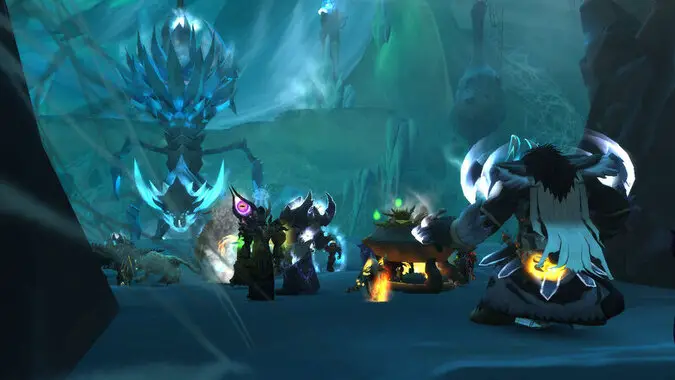 Whose idea was it to add tornadoes to the Mythic version of the Sennarth fight???? I'm not mad, I just want to talk.
This is one of those examples of a relatively tiny addition to making a fight ready for Mythic difficulty that has the effect of making me dislike the original fight even more! I already wasn't the biggest fan of the Sennarth encounter, but now? Oh boy is it my least favorite in the Vault.
While I cross my fingers that we can squash the spider soon, it's time for — The Queue!
---
THOMAS STRANGE BURY ME IN SILENCE FOR I'LL NEVER HEAR THE TRUTH
Calling out to Captain Cakewalk (or any druid expert)…
How are druids playing these days? I basically do balance or guardian, but it seems like there's a major talent re-shuffle every (checks watch) time I visit Wowhead. I'm having serious Wrath of the Lich King flashbacks!
Well, I can only really speak to how Guardian Druids are playing these days, but basically, if you've played Guardian at all since Legion, you know how Guardian Druids are playing these days.
Bear has been stuck in a rut, and I've spent the last few expansions just recreating the same feel via Azerite Armor, Soulbinds, Conduits, Legendaries, and Conduits. Not only are we stuck in a rut, but it's also not even a particularly nice rut. Bears haven't been brought to the Race to World First since Kil'Jaeden, and definitely aren't setting the world on fire in the Keystone ranks. Not that we can't hang in non-bleeding edge content, we do fine there. It'd just be nice to be one of the go-to classes again.
For that to meaningfully change I think that we'd need some niche that the other tanks don't fill. Brewmasters are always popular because Stagger lets them shake off damage that would normally be one-shots. Maybe it's time to go back to the days of Guardian having the largest health pool so that we can take more punishment that way.
As for the rest, Balance and Feral seem to be some of the harder classes for the Blizzard developers to get feeling just right. We've seen Mastery and Talent shuffles galore for them, and who knows if that's going to stop any time soon.
---
KALCHEUS MY COFFIN WILL BE EMPTY 'CAUSE YOU'LL NEVER STEAL MY YOUTH
Q4tQ If you get the PC version, are you going to play D4 with controller or kbm?
Keyboard and mouse all the way! I've only ever used a controller at my PC for HADES and Rocket League. It was just too much of a pain for me to keep remembering to bring it back to my Xbox and re-pair it. Sure I could've gotten a second controller, but what am I — made of controllers?
What I do wish is that since I'm getting the PC version, I could also install the Console version of Diablo 4 and have seamless cross progression there if I decided that I wanted to play on my couch.
---
MUSEDMOOSE THE SPEED OF DARKNESS LIGHTS OUR WAY WE SET OUR CAUSE FOR AMERICA
Q4tQ: will you be using any of the new hair colors coming in 10.0.7?
If Orcs could be Druids, maybe!
Since they can't, I'll continue to rock my cool Zandalari mohawk and look longingly through the window at the cool new colors that other people get.
---
NO ARTHONOS WILL BITE MY TONGUE THE SPEED OF DARKNESS HAS BEGUN
Q4tQ: Anyone else a little disappointed Valdrakken didn't make better use of the vertical design for its buildings? Nearly everything is at ground level, and aside from the Aspects at the top there really isn't anything else in those super tall spires. Would have been really cool to have an inn halfway up that you could call home, and have a great launching off point for dragonriding each day.
Well, now I am!
I do get it though. It's hard enough designing a city for us players to hang out in without adding massive verticality to it. People still had trouble remembering where things were in Oribos at the end of Shadowlands and that was a big circle! If you added in trying to remember which balcony had the transmog vendor amongst many other balconies surrounded by dragons in Valdrakken we'd have a riot on our hands.
I'm just happy that Valdrakken as a functioning Auction House for non-engineers. No more running laps trying to find someone up on their longboi mounts and spending more time doing that than it would've taken me to just go back to Orgrimmar.
---
ONLY TIME AND JALAMENOS WILL TELL BUT IT'S A LONG WAY HOME WHEN YOU'RE IN HELL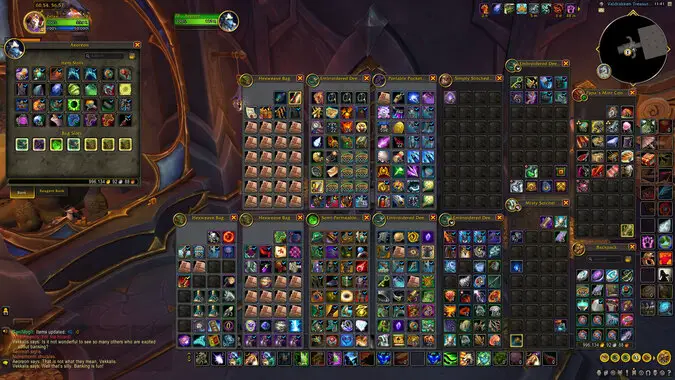 Hey, I have like seven open bank slots! That's so great! Most of it is currently taken up by all of my Ember Court friend letters that I got in Shadowlands. I also still have all of my Legion and Shadowlands legendaries and various bits of currency that have since turned into grey-quality items once it's no longer used for current content.
I just like holding on to them as a reminder.
Today's Anna Earworm™: Speed of Darkness
Have a great day everyone! I guess I didn't see you on Monday at my usual bear time, but next Monday definitely look out for me! Unless of course something comes up again then who knows who could be there!