Fight Diablo 4 world boss Ashava the Pestilent in this weekend's open beta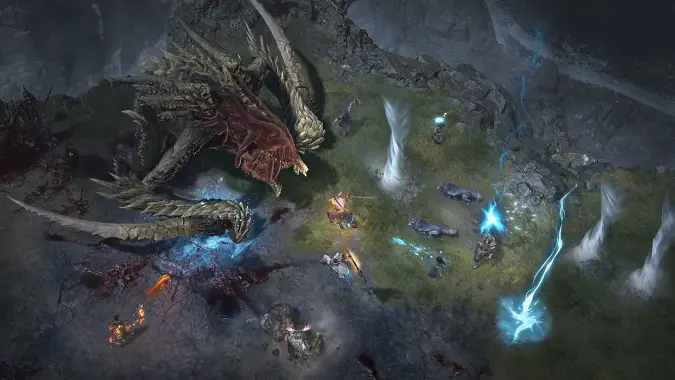 Diablo 4 is launching soon, on June 6, but the game's open beta is this weekend. And though we can only play through Act 1 in the game's first zone, we'll be able to tangle with one of the game's deadly world bosses: Ashava the Pestilent. World bosses are new to the franchise in Diablo 4, and when the game launches you'll encounter them as open-world events, which are designed for a group of players to tackle. (But fortunately Diablo 4's multiplayer features mean you're almost certain to find help nearby when a world boss spawns. As the devs explain it, at "certain points in the game you'll come across…some truly gigantic horrific monster, and it's gonna take more than the people in your party to fight it."
We got our first glimpse at Diablo 4's world bosses way back at BlizzCon 2019. They're huge, menacing, and ready to murder a whole heap of players — in fact they're so big that the devs had to "pull the camera out just to frame the encounter activity." You can see the massive scale of the encounter in the video below or if you jump into the open beta to test yourself against Ashava in person.
If you're ready to tackle one of the game's biggest challenges, you can take on Ashava at specific times during this weekend's open beta. Though the beta starts on Friday, March 24 at 9am pacific, the world boss will only spawn on Saturday and Sunday.
These are the Diablo 4 beta world boss spawn times:
Saturday, March 25: 10am, 12pm, and 10pm PDT (GMT-7)
Sunday, March 26: 12am PDT (GMT-7)
At the appropriate time, you'll find Ashava in the Crucible in the southeast of the Fractured Peaks. Check your map for a special event icon in the lower right, which will show you exactly where to find the world boss. The map icon will show up 30 minutes before Ashava spawns, and there will be a countdown when you mouseover the icon, so you'll have plenty of time to get to the right place.
But be forewarned — Ashava is not for the faint of heart (or low of level); you'll want to be around level 20 to try out the fight this weekend.
Fighting Ashava doesn't take too much strategy, but you'll want to be sure to watch for its attacks and dodge appropriately. This is a long fight, and you won't have enough health potions to just heal through the damage. Being good at the game's evade mechanic, which lets you quickly dodge away from danger, will be crucial to avoiding the massive damage world bosses can dish out. Gear that gives you extra evade charges or reduces the evade cooldown can help you out as well.
World bosses are another example of Blizzard embracing the "large and open" concept. Diablo 4 has a massive open world to explore, and world bosses are only one of the dangerous encounters you might run into while exploring — like in all Diablo games, you should beware of the Butcher. All of these dangers remind players that Sanctuary is no longer safe, no matter where you roam.
So get ready to pit your skills against the world bosses in this weekend's Diablo 4 beta test this weekend — and be prepared for a few deaths along the way.
Originally published November 9, 2019; updated March 23, 2023