The Queue: I went to a zeppelin party…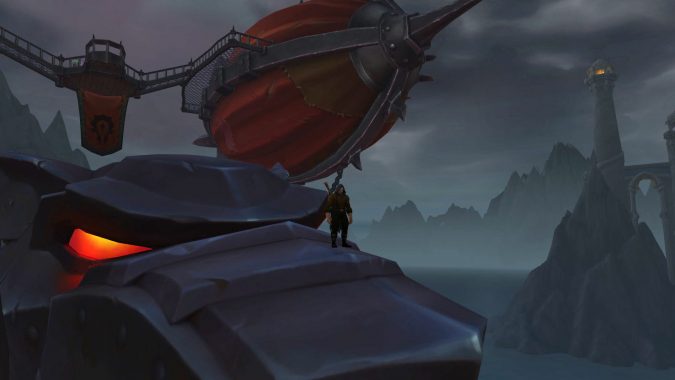 While the Diablo 4 open beta tries to hungrily devour the collective attention of the Blizzard Watch team, I'm pinch-hitting for Liz. So, without further ado, shall we Queue?
---
RED
Q4Jaxdaddy: Have you been riding many zeppelins of the opposite faction lately?
Boy howdy, I do enjoy me some zeppelin rides. I meet great people who only sometimes try to kill me. I'm still a bit bummed that they never reestablished the Brill to Orgrimmar route. I tend to be nosing around in the north of the Eastern Kingdoms rather than down in Stranglethorn Vale where I can catch the zeppelin from Grom'gol . That said, your question made me realize there IS an airship to the Dragon Isles. Be right back…
Wow, the Defiant Dragonscale is GINORMOUS. I bet we could have a heck of a dance party on it. How about it, Queue? Want to help me fulfill my dream of pulling together a whole raid group for a Horde/Alliance dance party on a zeppelin? I really need screenshots for a future article!
---
KALCHEUS
Q4tQ: Besides the two in the War Creche, which Forbidden Reach rare do you find most annoying?
Whichever one I'm racing to the other side of the zone to kill, then after dropping from the sky in a screaming, dramatic dive– can't quite get within range quickly enough to toss a Judgment at before it dies. But, yeah, any rare that lives in a cave automatically gains +5 levels of irritating from the get-go.
---
GLOWING METEOR CARROT
You ever put honey mustard on your grilled cheese?
I love mustard but am a fan of rather more savory varieties than sweet; however, mustard on grilled cheese sounds great in general. I'll give it a try!
---
FELINAE
Did you know that there is a secret quest line in Dalaran (Legion) which grants the title Postmaster. The quest line has you helping deliver mail and explains how it works.
I yoinked Fel's question out of a Discord conversation with another Queuevian simply to encourage everyone to try out the mailroom questline if they haven't. It's fun! And, you get to score Katy's Stampwhistle.
Well, that's The Queue. Enjoy your weekend! Be good to each other, slay lots of demons as appropriate, and take a zeppelin ride or two whatever faction you play!