Which of the forthcoming alternatives to D&D are you planning to try out?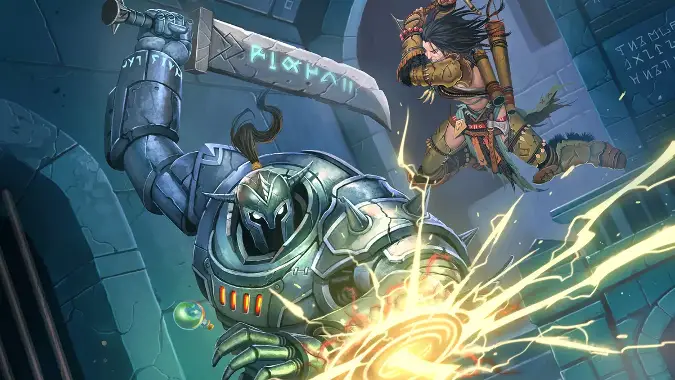 April has been an exciting one for the TTRPG community, as the fallout from the Dungeons & Dragons OGL fiasco continues to take shape. Besides more solid plans for Kobold Press's "Black Flag" project — now titled Tales of the Valiant and arriving on Kickstarter in May — the Pathfinder team at Paizo announced a remastered 2nd edition (devoid of references to D&D's OGL) will be coming later this year. The biggest news, however, is that the Critical Role team is planning a brand new TTRPG titled Daggerheart to premiere at Gen Con in August.
As a TTRPG enthusiast I've always been a fan of seeing as many systems and settings as the market can bear so I'm excited about all of these — and yes, despite the ill will generated by the aforementioned OGL fiasco I'm still keen to see what the One D&D projects gives us next year. There's a lot at stake here as tabletop gaming continues to thrive despite COVID-19's attempt to bring it down.
Of the three forthcoming new projects, Pathfinder remastered 2nd edition will likely be the least impactful. Essentially a technical revision in order to remove any vestiges of the OGL, players shouldn't expect radical changes to the core rulebooks. That said, it will be Paizo's best chance to get their new Open RPG Creative license into a marketplace averse to using the OGL anymore. They'll need to be sure to drum up interest not only in the rule updates but the benefits for third party publishers to embrace ORC.
Kobold Press's Tales of the Valiant (formerly known as the Black Flag project) has already started playtesting and advertising as they get closer to their Kickstarter launch next month. Kobold Press is one of the most prolific third-party publishers for Dungeons & Dragons, so they have the expertise to design and publish a new gaming system. However, it will remain to be seen whether they are able to differentiate themselves enough from One D&D or Pathfinder to lure players to their system. There's actually a disadvantage in advancing this project now: Popular features from the playtest could find their way into the other systems as they work through their revisions.
The Pachydan in the room, however, is Daggerheart. Critical Role was arguably a stronger brand than D&D before the OGL kerfuffle, and their brand has seemingly suffered no fallout from it. Of course, we know absolutely nothing about Daggerheart outside its existence right now, but Matt Mercer & company have the talent if not the experience to create a new game. One of the key questions will be whether Exandria can be extracted from D&D to feature as the setting for the new game. While Mercer is more than capable of crafting an appealing new setting if he had to, the ability to use the characters and settings from the first three campaigns will be a bigger draw than the author on the cover.
So which of these new alternatives are you most looking forward to? Are you willing to stick with D&D and see what happens with One D&D before moving on, or are you already clearly off space on your gaming shelf for a new set of books? And are you as excited as I am for the Highhelm setting (and its associated Adventure Path) coming to Pathfinder this summer?