Critical Role's Darrington Press to release Daggerheart, a new TTRPG system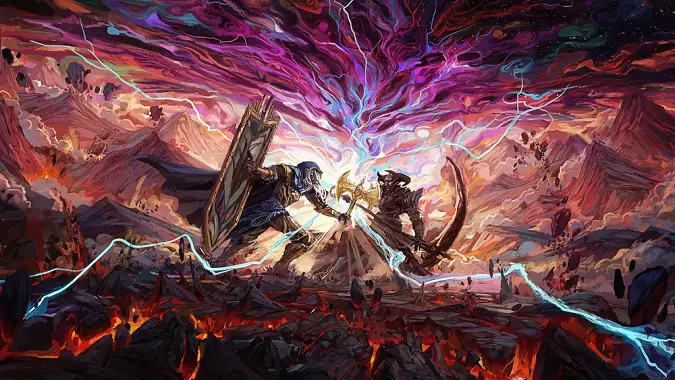 It's official: the team at Critical Role is making its own tabletop role playing game named Daggerheart, a high fantasy TTRPG designed for running long campaigns. The TTRPG community has been wondering whether Critical Role might create its own TTRPG system ever since the group launched Darrington Press, to publish its own games — but until now, Darrington has focused on board games and the Tal'Dorei campaign setting books. With Daggerheart — and other new projects in the works, Darrington Press is clearly gearing up for something more.
It's no secret that Critical Role was one of the things that has fueled the rise of Dungeons & Dragons as a cultural phenomenon. This streaming web series started as friends playing D&D at home, but now spans nearly 300 episodes (with over a million viewers each), an $11 million Kickstarter campaign, an animated TV series that was picked up by Amazon Prime, numerous books and comics, and two adventures published by Wizards of the Coast — on top of the art books and campaign setting information Darrington has published.
Now Critical Role is poised to take that popularity and build its own TTRPG system, which it intends to show off at this year's Gen Con, the largest convention for tabletop role playing games in the world.
But we still don't know very much about Daggerheart. Matt Mercer and Misha Burton teased Daggerheart while discussing the various projects that Darrington Press is working on this year. Mercer says that Daggerheart is a "fun and fresh update to the fantasy genre of RPGs, and it's been designed for long term campaign play and character progression," and that they've been working on the game for a while. We don't know if it will be a d20 system that takes cues from D&D — like Pathfinder — or something different. But even without any more description, this makes me think the game is coming directly for D&D's lunch.
There's also another TTRPG coming: Illuminated Worlds, a setting-agnostic d6 system for shorter campaigns. The game was designed by Stras Acimovic and Layla Adelman, and will be published by Darrington Press. Illuminated Worlds definitely sounds interesting, but it's not really aimed at the same kind of gameplay as Daggerheart.
With Daggerheart, it's hard not to immediately wonder if Critical Role intends to drop D&D for its new game system. I don't think you can credibly make that kind of claim yet — we just don't know — but it's worth mentioning that during the recent D&D OGL controversy, Critical Role's comment on the issue focused on supporting diverse, independent creators in the TTRPG space:
Critical Role has always supported creators and game development in the tabletop space. We stand by our industry peers, as well as anyone who takes a risk creating a new system or developing an original idea.

The beauty of gaming comes from the opportunity to share inclusive, diverse, and compelling stories from a wide spectrum of creators. That's exactly why we launched our own game publishing company a few years ago — because we believe that broadening the field of creators boosts the entire industry.

The success we have experienced is thanks to the passion and interest of the greater tabletop community and we commit to fostering an environment that allows everyone the opportunity to easily share the stories they wish to tell.
This wasn't the scathing rebuke of Wizards of the Coast that a lot of fans wanted, but it makes a lot of sense if Critical Role was in the middle of making its own TTRPG system at the time.
It's also fair to say that if Critical Role uses Daggerheart in streams that it will instantly become one one of D&D's biggest competitors. The sheer size of their audience should never be underestimated, and considering the cultural juggernaut that Critical Role has become, Daggerheart is probably enough to shake up the entire tabletop role playing game community all by itself.
But at this point that's all speculation. We'll learn more about Daggerheart and other games from Darrington Press at Gen Con in August.