Earn three Battlegrounds hero skins with the Mrrglgroove Dance Party event in Hearthstone, now live!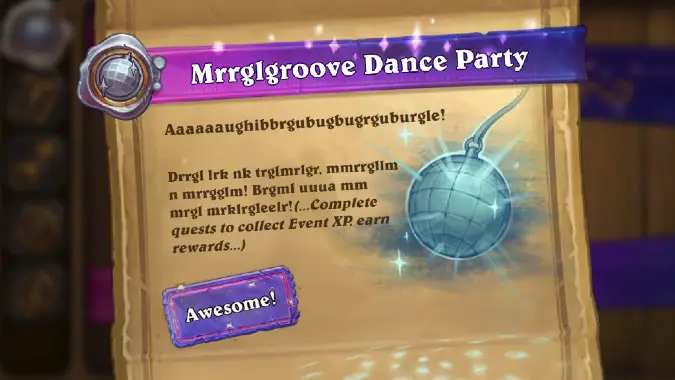 A new Battlegrounds-focused event is now live in Hearthstone: it's the Mrrglgroove Dance Party, which can net you three Murloc-themed Battlegrounds hero skins. You can find the event on your Journal, by clicking the fancy button with the disco ball on the bottom left corner of the main screen of the game, right next to the Shop. The Event panel is the first icon on the Journal.
Within that panel you should find all the info about the event, including the rewards and how much event XP you need to earn everything. The rewards are as follows:
Millificent Mrrglstorm Battlegrounds hero skin at 250 event XP
Galakrond, Proto-Murloc Battlegrounds hero skin at 600 event XP
Vol'fin Battlegrounds hero skin at 1000 event XP.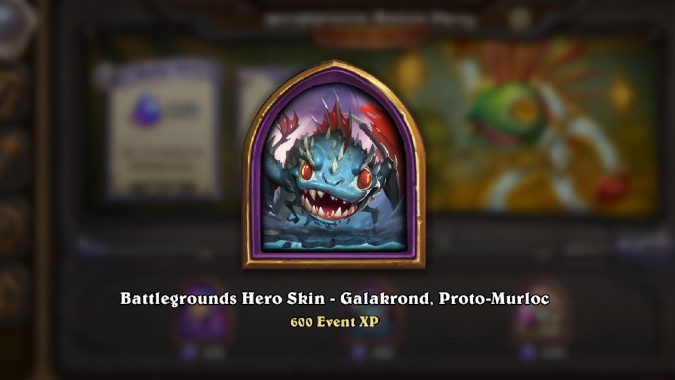 In order to earn the event XP you need to get those rewards, you'll have to complete event quests. This time around, there are three special quests that you can't re-roll — after you finish one, you get the next one. These quests are as such:
Slayin' Alive: Win 15 combats in Battlegrounds. Reward: 150 event XP
Mamba No. 5: Play 5 minions with Venomous in Battlegrounds. Reward: 200 event XP
Murlocarena (ay ay!): Play 3 Golden Murlocs in Battlegrounds. Reward: 250 event XP.
In addition to those special quests, you also get daily event quests that reward you with more event XP. You can re-roll those daily event quests once a day, and you'll get a new one to complete on each of the 14 days of the event — which is more than enough time to earn everything, from our previous experiences.
Most of these quests should be easy to complete just by playing Battlegrounds normally, since they require you to win combats and play certain minions, for the most part. For Mamba No. 5 and Murlocarena, you'll surely want to try focusing on playing Murlocs, though.
So if you want to earn those cool new skins — Galakrond, in particular, is a favorite of mine — get on your dancing shoes with dancing on your mind, and let's mrrglgroove!