The Queue: I am thou, thou art I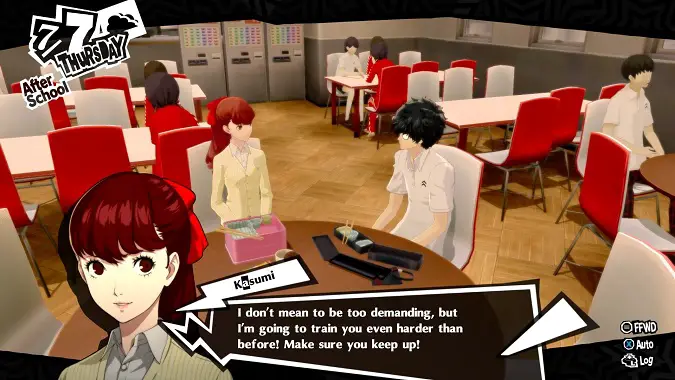 I've made a terrible mistake. I played Persona 5 Royal and I got absolutely addicted to the game and its world. I've acquired Persona 5 Strikers and Persona 5 Dancing in Starlight and I've started reading the manga. I may even have bought a new polo shirt that matches the game's main color theme.
Anyway, while I wait for the Phantom Thieves to steal my heart and return me to normal, let's answer some queue questions!
---
RETPALLYJIL ASKS ABOUT LAST WEEK'S BIG ANNOUNCEMENT
There's a part of me that would love to attend BlizzCon at least once, but there are a couple impediments to that happening. For one thing, I've never been comfortable in huge crowds and the medical concerns of the past few years have exacerbated that anxiety on my part. Even if I overcame that, though, I never do as well with info gathering in person due to my hearing issues. Sitting in a murmuring crowd fifty feet away from a speaker typically means I miss two out of every three sentences uttered. If my goal was just to experience the event that wouldn't be an issue, but I would much rather sit in front of a computer for the info dump.
The final reason is an odd idiosyncrasy on my part — I've never been to the Los Angeles area, and I would feel compelled to explore. So a BlizzCon trip for me would have to be part of a larger vacation, and there's not room for one on my calendar currently.
---
TELWAR DOESN'T REALIZE IT BUT HE'S ASKING ME FOR A BOOK SUGGESTION
Lords of Uncreation finished. Now, do I want to have action fantasy, or doomed anti-Cthuhlu as my next book?
You want time-traveling humorous Victorian sci-fi. Seriously. To Say Nothing of the Dog is my favorite book of all time — yes, even above Lord of the Rings.
---
JAXDADDY HAS A QUESTION FOR THE BIRDS
Q4tQ What is your holy grail of birds to observe in their natural environment? Why?
The Carolina Parakeet. Extinct now for over 100 years, this colorful conure used to fly all over the US and was one of the few native parrots to the area.
Look how gorgeous it is! How unique it would be to see it live again!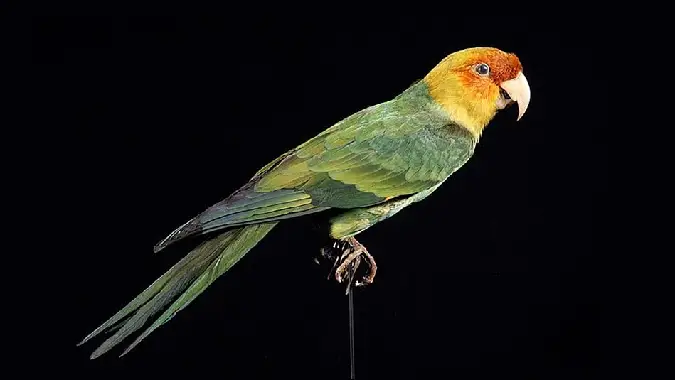 Sadly unless we decide to clone it and restore it to the wild, my holy grail will never be obtained.
---
GLOWING METEOR CARROT ASKS ME ABOUT VIDYA GAMES
Anything you're hoping to see from the Sony thing happening [today]?
For those who don't know, the Playstation Showcase will air three hours after this queue goes live. Rumors and theories have abounded as to what will get screen time during the event, with the most popular guess being a release date trailer for Spiderman 2. Other possibilities are a pre-release trailer for Final Fantasy 16 and/or a trailer for Final Fantasy 7 Rebirth, the next game in the FF7 remake series.
Personally I'm hoping for the rumored Persona 6 announcement, although I'm not betting on it. Frankly I'm a cheap date when it comes to these presentations, just give me some new and interesting games to gawk at and I'll be happy.
---
ENO WANTS TO TALK ABOUT DWARVES, SO HOW COULD I NOT RESPOND?
If a new Dwarven clan emerged out of nowhere, how would you design them?
It was originally presumed that we'd get more dwarves when info on 10.1 starting coming out, but it ended up being Niffen and Drogbar down in the cavern instead. Frankly I'm not sure why'd we need another dwarf clan because the ones we have now pretty much cover all bases, but I'm nothing if not a sucker for new dwarf design.
So in terms of environments most are already covered by the existing clans. One possible gap is a sort of islander dwarf that has a culture similar to Pacific Islanders on our own planet, but frankly I'd be more inclined to save that for an entire new race. But definitely some sort of island dwarf that's big on spear-fishing and focuses their traditional dwarven ingenuity on weaving and boatbuilding.
---
BOTH ARTHONOS AND MUSEDMOOSE WANT TO KNOW HOW I'LL BE FACING OFF WITH LILITH
What will be your starter class for Diablo 4?
Rogue! While I'm not melee-averse in the slightest, I've come to the conclusion in recent years that my best way to experience games is as a ranged physical class. Since my first time through I'll want to concentrate on story and such, playing as a bow-wielding Rogue ensures I'll be able to pay attention to everything going on.
Plus, it's very satisfying to line up a Penetrating Shot that takes out half the enemies. It's not the fastest way to mow through them, but it just feels right.
That's it for today's queue! Thank you all for keeping me sufficiently distracted from the antics of Ryuji and Morgana for a few minutes. Cory is on tap for tomorrow, so be sure to ask him questions, especially about his raid last night — if you're a patron you may have already seen the screenshots in our Discord server, so if that's not a reason to become a patron I'm not sure what is!