The Queue: Problem solvers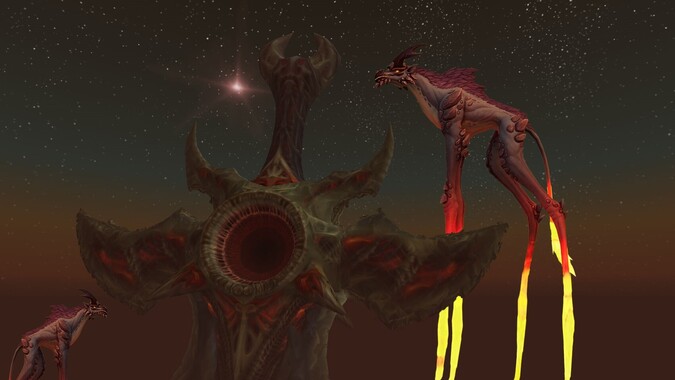 Woah, maybe this is how we finally get rid of the giant sword sticking out of Silithus! Although the longdogs have pretty skinny legs and no opposable thumbs — maybe we'll need a few more!
While I see if I can track down another bunch of not-so-deepstriders, it's time for — The Queue!
---
YOU KNOW, EVERY NOW AND THEN I THINK YOU MIGHT LIKE TO HEAR SOMETHING FROM KALCHEUS
Cory is on tap for tomorrow, so be sure to ask him questions, especially about his raid last night — if you're a patron you may have already seen the screenshots in our Discord server, so if that's not a reason to become a patron I'm not sure what is!
I had a good raid last night! Well two nights ago now, I was able to collect a few off-pieces that nobody else really wanted, and when it was time for the nice fancy trinket to drop from the Echo of Neltharion guess who had two thumbs and rolled a 100? This guy!
I also got lucky and collected a Forbidden Flounder from Magmorax, and y'know I couldn't just let it sit there in my bags un-nibbled upon so now I have the achievement for doing that!
To top it all off Sarkareth was a nice dragon to me and when I opened the loot box left behind after him I was very happy to see the fancy new Dragon Glyph in it!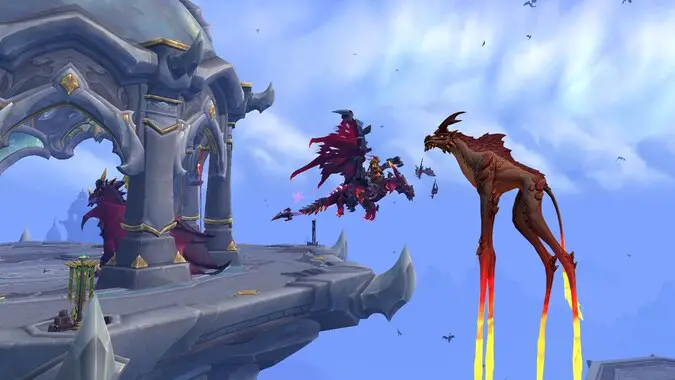 This is just one of the many images (too many if you ask Liz) that I've created with longdogs in it that Patrons can see on our Discord.
All in all a very successful night in Aberrus!
Sunday we go back in and we'll either start our Heroic Sarkareth progression or dip our toes in the Mythic difficulty for the first time to see if Kazzara is as easy as Liquid made her look.
---
SO WE'RE GONNA TAKE THE BEGINNING OF THIS SONG AND DO IT ENO
Since bears are related to pigs, should we have druids that can transform into gigantic boars?
Sounds to me like you've just pitched a set of transformations for Orc Druids! Boar can be for tank form, and a longer pig can be for cat form. Travel form is just a boar with extra speedy legs like the boar mounts used to have. Flight form gets a little trickier but I'm sure that we'll be able to figure something out about pigs flying. There might be a lot of people who'd have to make good on some promises if that was the case.
This could also work with rams and Dwarves if they were looking to keep the number of Druids balanced per faction…
---
AND WE'RE ROLLING, ROLLING, ROLLING ON THE ROXXII THE THUNDERING
Well, it's a big building with lots of overpriced stores and restaurants in it. They used to be the pinnacle of consumerism, but lately between Amazon and Walmart it's harder for some malls to stay afloat and gradually the overpriced stores and restaurants will shift into shuttered storefronts and discount CD stores.
Unless you're the West Edmonton Mall, in which case you'll keep on going strong, but close your major attractions three hours before closing for some reason.
Weirder still, there's a strange outbreak of critters in the West Edmonton Mall these days…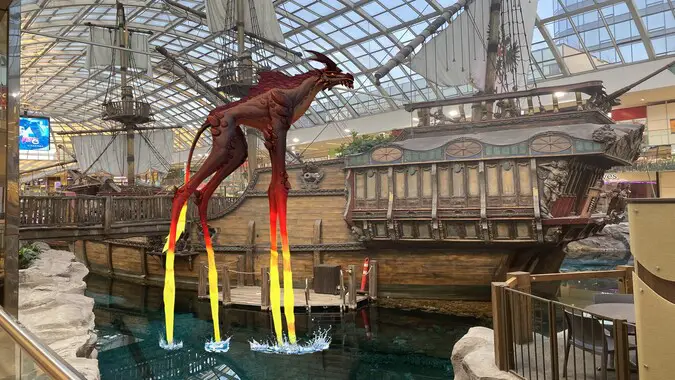 ---
I LEFT A GOOD JOB IN THE CITY WORKING FOR THE RED EVERY NIGHT AND DAY
Q4tQ: have you ever had a dream that you're back at your high school but there's a mall in there now? Like, right in the middle of the school campus? A whole dang mall? Cause I've had that one, several times, and I'm wondering if that's normal
It's not abnormal I'm sure. There are so many connections between school and the mall as people grow up that it makes sense for the subconscious to merge the two. Kids were always going to the mall to skip class, buy school supplies, or hang out in food courts you try not having the odd mall related dream now!
As long as you're not walking around in the mall naked on your way to take a test, that you haven't studied for, in a class that you've never attended … you're probably going to be ok.
---
YOU KNOW THAT BIG WHEEL KEEP ON TURNING GLOWING METEOR CARROT KEEP ON BURNING
Do they still have arcades at the mall?
The mall I went to has not one, not two, but three arcades in it! Depending on whether or not you're willing to give the arcade/ticket set up inside the theme park credit for being one or not.
I even went and played some skeeball in one of them last night too! It was not the best night of skee-ing balls I've ever had, but I did alright.
---
GLOWING METEOR CARROT NEVER SAW THE GOOD SIDE OF THE CITY UNTIL THEY HITCHED A RIDE ON A RIVERBOAT QUEEN
When you're at the mall do you ever look at an escalator and wonder how many bones has this machine crushed and consumed?
Well, now I will!
I haven't heard of any major escalator-related incidents in a while, but maybe that's just what big escalator wants!
Today's Anna Liz Red Earworm™: Proud Mary
RIP Tina Turner
Make sure to leave lots of questions for Red tomorrow and I'll see you again on Monday! Have a great weekend!