How do you feel about frivolity in your serious games?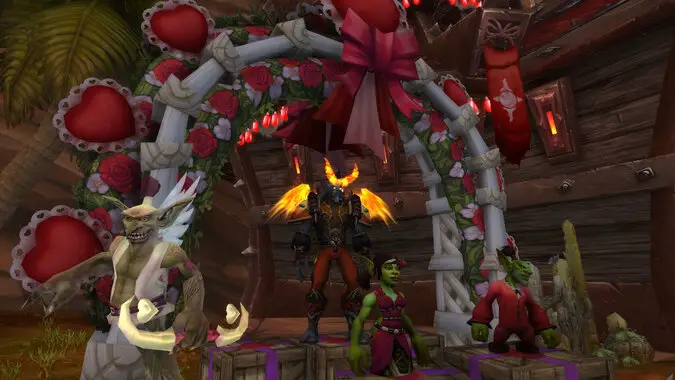 I'm a huge proponent of immersion when it comes to my gaming, sometimes to my own detriment. Things that many players take for granted — impractical clothing, joking names, and the like — have a tendency to annoy me when playing games like World of Warcraft or Final Fantasy 14 (I have a five-minute rant about the Regalia Car Mount). It's not that I necessarily want strict realism in my fantasy settings; I just want the available choices to make sense. That said, I've been trying to be more laid back and take immersion-breaking frivolity in stride as I recognize the benefits of having a good humor about things… even if I'm grinding teeth behind my smile.
Outfits are always a sticking point for me — in my mind there's nothing sexy or clever about your organs spilling out of your body because you didn't protect them adequately. I'm getting better, though, and one of my WoW characters is actually sporting the Darkmoon Harlequin's Bells outfit despite it being wholly impractical for a Hunter to adventure in this outfit. I even got a matching hyena pet and travel around on the Darkmoon Dirigible for that fully frivolous experience.
Another aspect I've come around on is romance in games. While I don't think every game needs to have a dating simulator built in, it can add a level of emotion that simply killing a ton of monsters doesn't always provide. Of course, if the romance is railroaded that can detract from the whole experience so developers should be wary of turning a positive into a giant negative (and while they're at it, they should be open-minded about the allowed choices please).
Of course, it's hard to get less serious than with Diablo's infamous Cow Level. While we don't know for sure if it (or its less popular cousin Whimsyshire) will appear in Diablo 4 it's a good bet that it'll return at some point — it's too ubiquitous a gaming meme to be ignored by the development team. There will always be those who find the idea of a Cow King anathema to the experience of hunting demons in Sanctuary, but it's likely here to stay despite the groans.
What do you think? Are you a fan of the occasional humorous or romantic diversion in your games? Or do you find features like the Cow Level to be immersion-breaking?