The next Hearthstone mini-set, Audiopocalypse, brings back dual-class cards. Now live!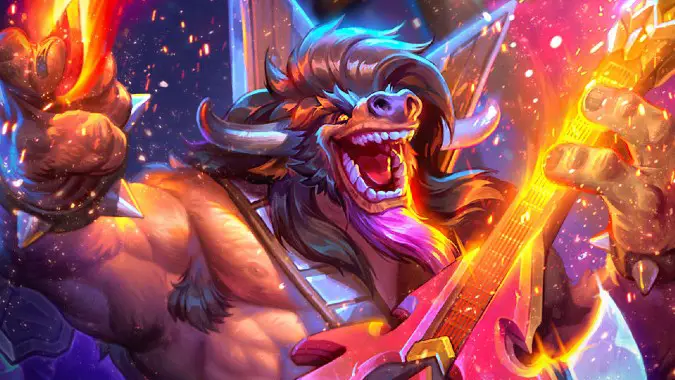 The next Hearthstone mini-set is Audiopocalypse, and it's now live! This mini-set includes 38 new cards for the Festival of Legends expansion, and should give the developers a chance to make balance corrections to the game, by empowering archetypes that are under-performing, or introducing cards that counter certain decks that might be seeing too much success.
This mini-set can be purchased with either 2000 in-game gold or $15. Purchasing a mini-set gives you access to every card that's included in it — one copy of every Legendary, plus two copies of every non-Legendary card. For Audiopocalypse, that means 72 cards, distributed as such:
4 Legendary cards
1 Epic card (two copies)
17 Rare cards (two copies of each)
16 Common cards (two copies of each)
Like the previous one, this mini-set also contains an all-Golden version, in which you get Golden versions of every card, for either 10000 in-game gold or $70. This version of the mini-set also contains a Diamond Legendary.
Every card included in a mini-set counts as being part of the actual expansion it's linked to. This means that even if you don't purchase the mini-set itself — getting immediate access to those new cards — you'll still be able to acquire them by opening packs, since cards released in a mini-set become available on the regular packs of that expansion moving forward.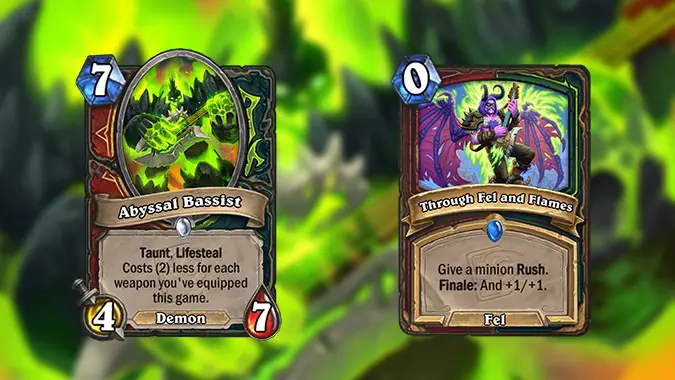 Dual-class cards are back!
Particularly exciting is the return of dual-class cards, which can be placed into decks of both classes it belongs to. Some examples include:
Abyssal Bassist, a 7-mana, 4/7 Demon for the Warrior and Demon Hunter classes that has Taunt, Lifesteal, and gets a 2-mana discount for each weapon you've equipped this game.
Through Fel and Flames, a 0-mana Fel spell, also for Warrior and Demon Hunter, which gives a minion Rush, but also +1/+1 if played as a Finale card (this is a keyword introduced in Festival of Legends that gives cards an extra effect if they spend all your remaining mana when played).
There's also a new type of card called "Remixed," which changes effects each turn it's in your hand. As an example, the Warrior 2-mana, 2/2 weapon Remixed Tuning Fork has four different possible forms, gaining extra Attack, a cleave effect, giving you Armor, or Discovering a Taunt minion, depending on when you play it.
You can find all of the new cards on the official Hearthstone Card Library. Get ready to fight for your right to party!
Updated May 31, 2023