What title are you using in Diablo 4?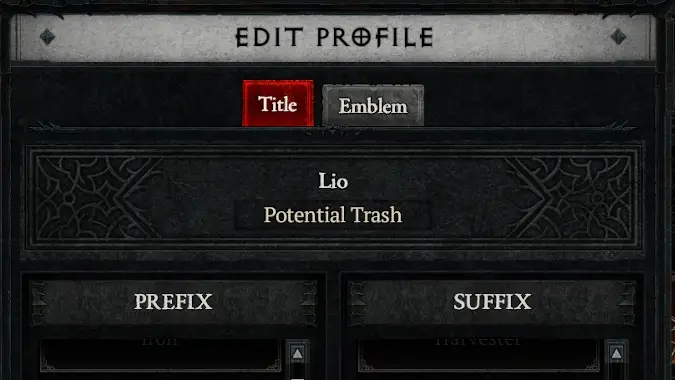 When I've asked friends about which titles they're using in Diablo 4, there are two general sets of answers: the people who are taking this very seriously, and the people who are trying to craft the most ridiculous name for themselves they can.
I, of course, go for the latter approach. As soon as I was able to snap up the suffix "Trash," that's been my name of choice. The suffix I choose is mostly based on the prefix that seems the most stupid at the time. Right now I'm "Potential Trash," though "Rare Trash" and "Magic Trash" have also been in rotation. I'm currently working through the Bear Clan storyline in the hopes of unlocking the "The" prefix, so I can be "The Trash." I know our editor Red also ground this quest line to its completion for that suffix, but so he could be "The Goat." He is definitely in my camp as far as titles go. I've seen a few "Early Casualty"s running around in the world, and from rare elites to world bosses to bad idling decisions, they always seem to be the people dying. I'm sure that's a coincidence rather than a sneaky game mechanic — maybe even manifestation on their part — but still, it makes you think.
By contrast, I have friends who are really getting into the RP of it all when they choose their titles. The stoic Barbarian player who's using "Honored Chieftain" or the Necromancer using "Pallid Desolation" are cultivating a very deliberate vibe, and one which is inarguably more in line with the mood of the Diablo franchise. My friend playing a Sorcerer was delighted to see the "Pyro" and "Maniac" titles pop up, and has used those ever since — though that may be a gray area, because it's also a little funny. It also makes me want to re-roll a Sorcerer, because "Maniac" has all kinds of hilarious possibilities.
So which title have you chosen for yourself? Did you go with funny or serious? Are you grinding your way to a more appropriate — or more amusing — title? Also, if you went with the "Trash" suffix, does that mean we're related?