What random gaming mishap sent your character to their untimely, but possibly hilarious, end?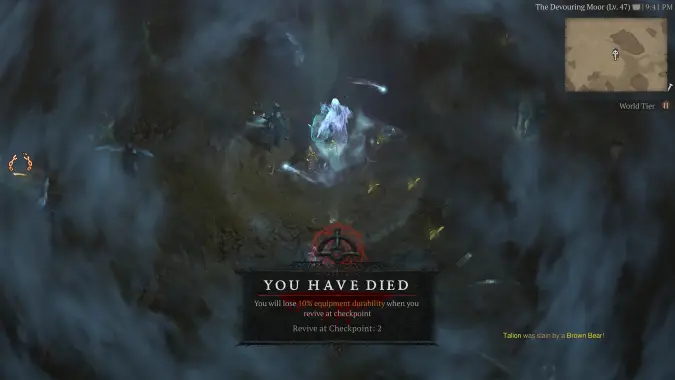 We've known for quite a bit that a Hardcore mode was going to be part of Diablo 4, but Blizzard upped the ante for the latest release — the first 1000 characters to reach level 100 on hardcore would have their names enshrined on a statue of Lilith to commemorate their achievement. The statue itself has been unveiled and right now Blizzard is verifying that 1000 players have completed the achievement under their set terms. Anyone attempting deserves credit because Hardcore means both permadeath and hard-hitting enemies that require extra planning when buildcrafting and tactical engagement to survive in Sanctuary's unforgiving world. Unfortunately, not everyone can make the cut, and the internet is rife with video compilations of player characters meeting their untimely, but sometimes hilarious, end in the quest for immortalized glory.
Seeing the clips of characters dying in this manner made me think back on the untimely deaths of my characters when the stakes were high, and I can't help but laugh at the absurdity of some of those situations I faced. I don't mean to make fun of anyone's attempt that may have fallen short — it sucks when your character dies due to shenanigans from unstable connections, forever-debuffs, or wonky game physics. I've played my fair share of games where I felt the game murdered me swiftly, unfairly, and remorselessly.
These days I'm more of a casual but I was deep into endgame content of raids and PVP back in the early days of Destiny. I've seen my character hurled through time and space, sniped through windows and across maps, outgunned, outdueled, blown to smithereens, and vaporized by space magic.  Through all of that, the most absurd thing that killed my Guardian was a simple rock.
When Destiny's second raid, Crota's End, released I joined a group to attempt a world's first completion. Part of the raid is a traversal through hallways while being chased by enemies and at the end you jump down a well in to a puddle of water to the next level. It was a maybe a 15-foot drop that wasn't outright designed to kill you but lucky me, when I jumped down the well I landed on the only non-flat surface and immediately died. When someone resurrected me, I took a close look at where I died and noticed a small bit of jagged rock protruding from the liquid — I guess I hit it at such a weird angle that it one-hit KO'd me.
Thanks to that and many other deaths, that group didn't complete the raid but I eventually got through it long after a winner had been decided. I'd like to hear about some of the untimely but hilarious ends your characters have met, so please share!