When is the next Hearthstone expansion release date? Titans is live now!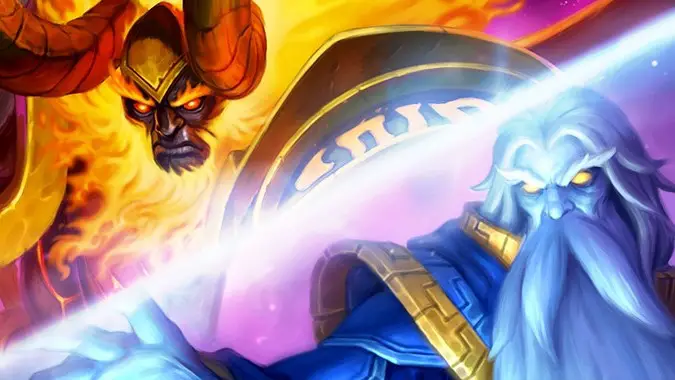 The next Hearthstone expansion, Titans, releases August 1 — that's today! — bringing very powerful Titan minions into the fray. The expansion will introduce 145 new cards to the game, as well as new mechanics that are sure to shake things up.
The Titans themselves are a new type of minion that cannot attack at first, but comes equipped with a Passive ability, as well as three activated abilities that can each be used once. As soon as your Titan hits the board, you can already activate one of those abilities. If your Titan manages to survive long enough to activate all three of their abilities, they can start attacking like regular minions do. However, that might not even be necessary, since the abilities are very strong and able to turn games by themselves.
The new keyword this time is Forge, which lets you increase the power of cards in your hand for the cost of two mana. You'll drag those cards into your deck, like you would with the Tradeable keyword, and the card will return to your hand in its Forged form, with new art and new text describing its enhanced effects. Also, the Magnetic keyword is making its return, allowing powerful new plays with Mech minions — and perhaps even more.
As is to be expected, Titans will include a Bundle and a Mega Bundle as purchasing options. The Bundle comes with:
60 Titans packs
two random Titans Legendary cards
the Inge card back.
As for the Mega Bundle, it contains:
80 Titans packs
five Golden Titans packs
a random Titans Signature Legendary card
a random Titans Golden Legendary card
the Diamond Zilliax Legendary card
the Inge skin for Death Knights
the Inge card back.
Keep an eye out for ongoing Twitch drops events. Though there was one in advance of the Titans launch, they happen frequently enough that it makes sense to check in regularly at this point in the expansion.
The Titans arrive August 1, and the Hearthstone cosmos will never be the same again.
Originally published July 26, 2023. Updated August 1, 2023.