The Queue: Aberrus is glorious!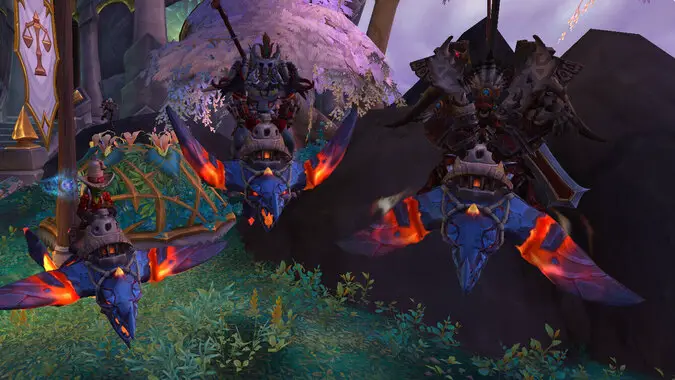 With a few too many key people out for our Mythic raid, it was time for our once-a-tier achievement run — yayyyyyyyyyyyyyyyyyy!
There was a good batch of achievements this time, including making our own baby Shadowflame elemental, which we promptly killed, and feeding a bunch of snails to a hungry chimera… which we also promptly killed. Hmm, I'm sensing a pattern here. At least we didn't kill the neutral Dracthyr named Nutraal! Although we tried to get his brothers in the Forgotten Experiments to try their best at killing him, I don't know if that's much better.
Best achievement this time around is We'll Never See That Again, Surely simply for the probable set-up for an achievement next expansion called "Who could've seen this coming? Not us, surely!".
Now while I apply some burn cream to my legs after riding this lava manta ray, it's time for — The Queue!
---
ROXXII THE SMOLDERING LET ME KNOW THAT I'VE DONE WRONG
What's a good regular flying mount to go with the fireplume set?
Have you considered the Shadowflame Shalewing?
If not that then maybe the Pureblood Firehawk from Ragnaros in Firelands. If neither of these are appealing then there is just no pleasing you!
---
I GO AROUND A TIME OR TWO JUST TO WASTE MY TIME WITH KALCHEUS
How North we talkin? Are you breaking out the toque to go play pickup shinny hockey before getting some wobbly pops?
If you're that far North why didn't you come to say hi! It's not that big up here!
---
TELL ME ALL THAT YOU'VE THROWN AWAY MUSEDMOOSE
Q4tQ: does anyone have any good PC-compatible controller recommendations? I've been using an 8BitDo SN30 Pro+ for years, but there are now two issues: one, both times I've bought it the left thumbstick has worn unfortunately quickly, and two, 8BitDo no longer makes the version with the concave/convex buttons that I prefer. So I'm looking for other options.
I know I could replace the thumbstick, but I looked up how to do that and it involves tools and technical skill that I don't have, including but not limited to a soldering iron, so that's a nope. >_<
I've used baseline Xbox controllers before where all I had to do is connect them with their cord to the computer and they were ready to go. I'm not sure what kind of price range you're looking for them, so there might be cheaper options out there.
Soldering irons don't need that much skill, especially once you make the one big mistake of grabbing it in the wrong spot. You learn very quickly to not grab it there and won't do it again!
---
KALCHEUS FIND OUT GAMES YOU DON'T WANNA PLAY
Folks I'm going north to my ancestral homeland for the week. Be good and listen to Anna and Liz but not Cory and definitely not Mitch
Hey, wait a second!
That's it, you're uninvited from the hockey game!
But you're right, we definitely shouldn't listen to Mitch.
---
DOMEHAMMER YOU ARE THE ONLY ONE THAT NEEDS TO KNOW
Least and most favorite Time Rift boss to fight? For me my least favorite is the Lich King because you'll just die sometimes with no chance of survival on a class without a ability like blink, heroic leap, or grappling hook. My most favorite is Gill'dan because the fight is simple and can just cut loose trying to do as much damage as possible.
I haven't gotten all of them so far, but it's a tie between the N'zoth one and the Lich King. The damage was too high on the Lich King for me to easily solo it, and I didn't have the damage to do the N'zoth one in any kind of good time with all of those little shielding tumors it puts out. I've been put into quite a few solo rift bosses now and it's super-duper annoying every time.
My favorite boss is easily Varian of the Great Glorious Alliance. I like that he got so angry he strapped a couple of saw blades to his hands on a big wooden flying ship. It's also nice to be fighting things on gunships again. It's been so long since we had a good fight on one of those, maybe we'll even convince Blizzard to give us a cinematic where some gunships go toe-to-toe with some Old God creatures next expansion!
Quick, everyone go suggest this idea to Terran, wait — development times are a thing. Quick, everyone go suggest this idea to Terran six months ago!
---
GLOWING METEOR CARROT I'LL KEEP YOU MY DIRTY LITTLE SECRET
If there's ever to be a naval expansion all I'd want is for the existence of Death Knight pirates. Just a bunch of dead people who after gaining their freedom decided to sail off and terrorize the port cities around new expansion land
Have you heard of the undead pirate fleets of the Vampire Coast in Warhammer?
They're not quite Death Knights, but also they've got giant hermit crabs with shipwrecks on their back, and walking shipwreck golems with cannons for arms!
I wouldn't be upset to see a whole faction based around that as a concept in a seafaring expansion. I'd also love to see the Mages get their act together and go full magical floating armada with arcane cannon barrages like Jaina used. Druids could armor up some Whale Sharks probably.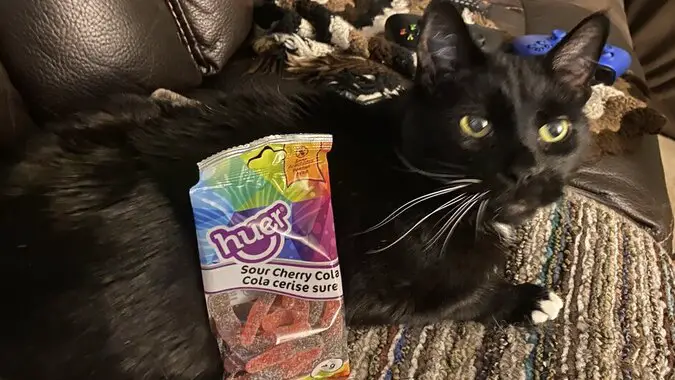 Boopable boy Bacardi has been briskly bribed, bad luck is banished! Better baubles are basically bagged, buddies!
Best benefactor bar none, bravo!
Today's Anna Earworm™: Dirty Little Secret
Have an excellent week everyone, today's a holiday in Canada so make sure to relax a little for me if you can! As long as you leave Anna a question before relaxing.