When does Diablo 3 Season 28 end? September 10!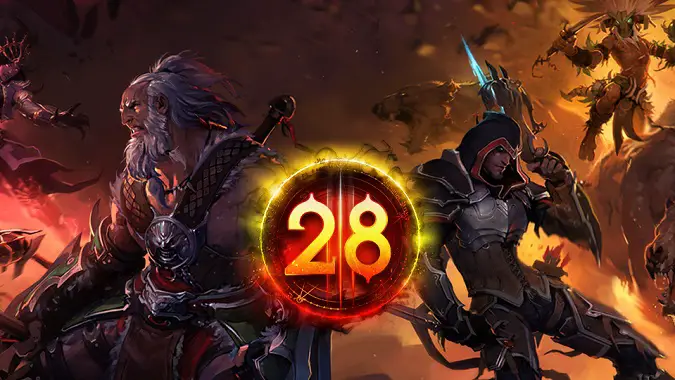 Diablo 3 Season 28: Rites of Sanctuary is live, and after almost six months, we're wondering about the end. Whether you're enjoying the Altar of Rites and its insane power-ups or you're already waiting for something new, let's take a look at when Season 28 might wrap-up. Blizzard has confirmed that Season 28 will end on Sunday, September 10, 2023.
Unlike the newer Diablo titles, D3's regional server configuration means individual start and end times by region. Below are the times when Season 28 will end for each region:
North America – September 10 at 5pm PDT
Europe – September 10 at 5pm CEST
Asia – September 10 at 5pm KST
Blizzard's announcement of the Season end date came right before the end of testing in the public test realm for the next patch, which ran from August 15 – 29. Traditionally, the start of PTR has marked the final four weeks of the existing season, where the actual end-of-season date is announced when PTR testing has finished. With testing for patch 2.7.6 kicking off on August 15, we counted forward four weeks to the next Sunday for our guess that the forum post confirmed.
While D3 seasons don't have a set length, they had previously been consistent in their run time:
Season 24 — Started July 23, 2021, ended December 5, 2021. Runtime? 19 weeks, 2 days
Season 25 — Started December 10, 2021, ended April 10, 2022. Runtime? 17 weeks, 2 days
Season 26 — Started April 15, 2022, ended August 21, 2022. Runtime? 18 weeks, 2 days
Season 27 — Started August 26, 2022, ended February 19, 2023. Runtime? 25 weeks, 2 days
Season 28 — Started February 24, 2023, ending September 10, 2023. Runtime? 28 weeks, 2 days
Seasons 5 through 20 averaged 12.5 weeks, but we started experiencing longer windows in Season 21 in mid-2020 as teams adjusted to working from home. After that, the 18-week average became the norm. And then Season 27 threw a rock into that cycle's window with a runtime of six months. Season 27's length prepared the D3 community for maintenance mode as we looked forward to Diablo 4. An end date of September 10 lands at a new record for longest Diablo 3 Season with a projected run time of 28 weeks.
But remember, it's not just D3 on the community radar now. We have Diablo 2 Resurrected and the associated ladders, Diablo Immortal and its rapid 4-week seasons with the first new Diablo class introduced in decades, and Diablo 4 kicked off its first Season on July 20 with Season 2 starting October 17. There is a ton going on in Sanctuary's various iterations. So start wrapping up your efforts to earn yourself an angelic dragon pet — there's only a small amount of time remaining!
Originally published February 28, 2023, updated August 29, 2023