Overwatch 2's new account progression feature, explained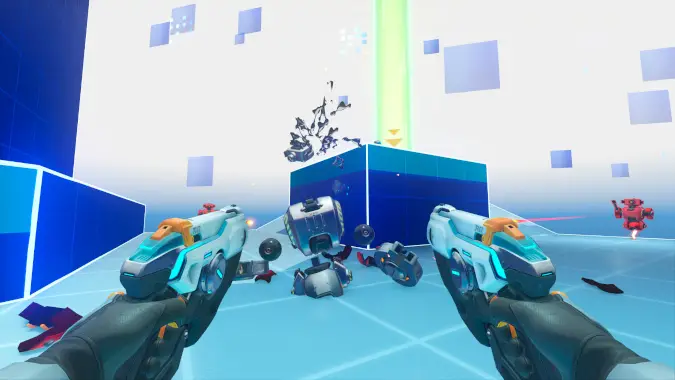 With Season 6 and Invasion bringing so much new content to Overwatch 2 — new play modes, new maps, new hero, new PVE missions, new battle pass — a small but important feature may have slipped off your radar: the dev team is bringing back permanent account progression. This progression offers levels to gain and bars to fill for almost every aspect of the game, from your account as a whole to game modes, to specific Hero skills as well, with rewards to earn over time. Unlike the seasonal Battle Pass, this progression is permanent, and will carry through the life of the game. It's a feature Overwatch needed for longevity, and I love it, but I simultaneously hate it.
Here's the breakdown of what you need to know about the new account progression feature, as well as the rewards at stake — and how it's breaking my brain.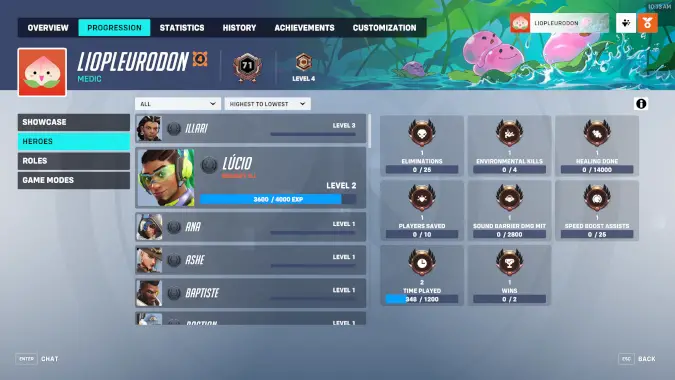 How account progression works in Overwatch 2
If you played the original incarnation of Overwatch, you're likely familiar with the basics of how account progression works. As you play, you gain levels tied to your account. However, while in the original game, levels were fairly limited to just your account — level 1-100, gain a star, level 1-100, gain a star — but now, in addition to the overall account level, there are levels to gain in almost every aspect of play. Certain aspects of these levels can act a little odd depending on which game modes you play. I only played Lucio in the new PVE story missions so far, and if you look at my stats above, it seems to have only tracked the time I played him, and nothing else. Expect the same for some of the quirkier game modes (Total Mayhem in the Arcade is almost always excluded from things like this).
You can access your Account Progression by going to the Progression heading on the main page, or navigating to the tab via the Career Profile. There are levels for game types, from Competitive to Capture the Flag. There are levels for roles, with Tanks having a bar to fill up in Damage Mitigated, and Supports with levels in Assists and Saves. On top of that, there are individual Hero levels to gain, with sublevels in many aspects of their play on top of that. If you're playing Ana, for instance, you'll be gaining levels in not only the Game Mode, overall Support role, and the sublevels for overall Support stats like Healing Done, but also in Ana herself, plus the sub-badge for Healing Done by Ana specifically. There are also very granular stats, like Ana has two separate bars to fill for her Grenade ability: one for allies she hits with it, and a second for enemies.
The reward for filling all those bars is one of six evolving Name Cards for each Hero, three evolving Titles for each Hero, and some Player Icons as well.
This has also changed the end of a match. Before, you'd be presented with toasts showing the progress you made during that match with daily, weekly, seasonal, and event goals, plus a little bar at the bottom filling with your Battle Pass XP. Now, while you do still get that breakdown afterwards, first you're also presented with a breakdown of the levels and your performance, with separate breakdowns by Hero set up as a match timeline if you swap through the match.
The example below was taken from the end of a Mystery Heroes match, because the rapid Hero swapping in that game mode makes the bars and gains just that much more apparent.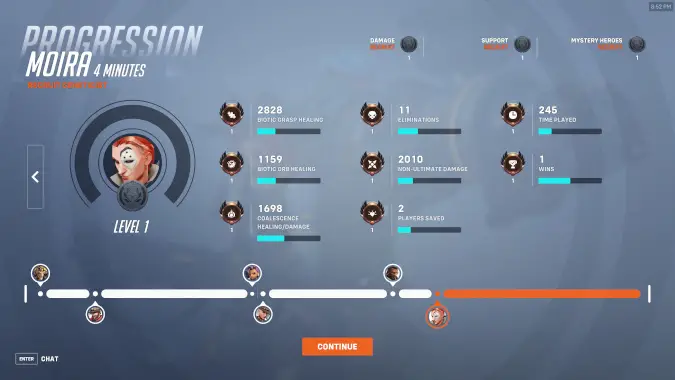 I hate Overwatch account progression because I love it
In practice, in the day I've had to play it, this feature has been a dopamine bonanza and my stupid lizard brain is impossibly hungry for more. I've been tempted to chain games for just a few more points in a way I haven't in years — I've been dutifully keeping up during events, and maintaining XP for the battle pass, but that feeling of just one more is addictive in a not at all metaphoric way. It's like I can feel my fallible brain chemistry being exploited while the numbers go brrrrrr. Despite being hungry for some actual in-game Overwatch narrative for years and almost irrationally excited to play the Invasion missions at long last after playing through the first one, when my little Lucio bars started filling up at the end of the match, I immediately ditched it in favor of other modes, trying to find a way to maximize my bars going left to right. Do I want to specialize in a couple heroes, or level everything at once? Do I get more bang for my Hero-leveling buck by specializing, or just going scattershot with Mystery Heroes?
No, seriously, please let me know how to maximize this. This single tiny crumb of dopamine is all my brain needed to go all in on Overwatch again, and I'm all but helpless to stop it even as I'm painfully aware it's happening.
Wanna group up? First one's free to play.